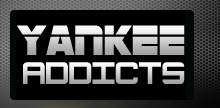 April 23, 2010 · Jordan Schwartz · Jump to comments
Article Source: Bleacher Report - New York Yankees
The Yankees have won their first five series, including last week's triumph over the Angels, but now the Bombers head out to Anaheim for a rematch in a stadium where New York has not had a great deal of success over the past 15 years.
Then again, this doesn't appear to be the same Halos team the Yanks have battled during the past decade-and-a-half. Los Angeles has been mediocre out of the gate, posting an 8-9 record with less-than-stellar statistics to back it up.
The Angels rank eighth in the American League in runs (67), on-base percentage (.316), slugging (.396), and OPS (.712).
And their pitching is even worse, ranking 11th in ERA (4.53), 10th in batting average against (.256), and 13th in OPS against (.787).
Let's take a look at the pitching matchups for this three-game set.
Friday, April 23 – A.J. Burnett (2-0, 2.37) vs. Ervin Santana (1-2, 4.35)
Burnett is coming off his best start of the young season, tossing seven scoreless, six-hit innings versus the Rangers in a 7-3 win.
Next up are the Angels, which the right-hander is 2-2 with a 4.43 ERA against in six career starts. He is 1-2 with a 4.23 ERA in Anaheim.
Bobby Abreu has a ton of experience against Burnett, going 20-for-64 (.313) with six doubles, a homer, 11 RBI, and 12 walks, but he also has 18 strikeouts.
Other Angels with success facing the 33-year-old, albeit with a much smaller sample size, are Howard Kendrick and Mike Napoli, both 4-for-11 (.364).
Torii Hunter, on the other hand, has not been as lucky. He's 2-for-23 (.087) with seven K's. And old friend Hideki Matsui is 3-for-14 (.214) with four strikeouts.
Santana is also coming off his best start of the year, throwing a four-hitter in a win over the Blue Jays.
That victory came on the heels of a poor performance at Yankee Stadium, where the right-hander allowed five runs and five walks in 5 2/3 innings for the loss.
Overall, Santana is 5-3 with a 5.50 ERA in nine starts versus the Bronx Bombers.
Nick Swisher might need another day off as he is just 4-for-28 (.143) with an astounding 14 K's against the 27-year-old.
Mark Teixeira and Curtis Granderson, each 6-for-26 (.231), also struggle versus Santana, but Derek Jeter (12-fo-27, 3 HR, .444) does not.
Saturday, April 24 – Andy Pettitte (2-0, 1.35) vs. Joel Pineiro (2-1, 1.77)
Pettitte continued his great start to 2010 in his last appearance against the Rangers. The left-hander yielded just two runs on four hits in eight innings to beat Texas, 5-2. His ERA is fourth-best in the American League.
The 37-year-old also pitched well in his previous start versus the Angels, tossing six scoreless frames in another victory. That improved his career mark against the organization to 13-10 with a 4.55 ERA in 29 games. Pettitte is 6-7 with a 4.19 in Anaheim.
Hunter won't be looking forward to this series, because he also has a rough time facing the southpaw, going 8-for-35 (.229) with 12 strikeouts. Kendrick is also just 4-for-18 (.222) and Juan Rivera is 3-for-14 (.214).
However, Erick Aybar (8-for-19, .421), Robb Quinlan (6-for-18, .333) and Napoli (5-for-9, .556) have handled Pettitte in the past.
Pineiro dominated the Yankees on April 14, holding them to one run in seven innings, before shutting out the Tigers over 7 1/3 frames in his last start, so the 31-year-old is clearly pitching well.
He's 3-3 with a 3.21 ERA in 17 games (nine starts) against New York, and the current roster hits just .232 off him.
Alex Rodriguez is 4-for-30 (.133) with 10 strikeouts, Jeter is 7-for-30 (.233) and Jorge Posada is 5-for-23 (.217).
Swisher has had success, though, at 7-for-23 (.304) and this might be a good day to start Randy Winn (6-for-18, .333).
Sunday, April 25 – Javier Vazquez (1-2, 8.27) vs. Scott Kazmir (1-1, 7.45)
It's never good when a three-run, two-homer, 5 1/3-inning effort is your best start of the season, but at least Vazquez may be headed in the right direction after defeating the A's on Tuesday.
Prior to that, the right-hander surrendered four runs in 5 1/3 against the Angels, dropping his career mark against them to 0-2 and increasing his ERA to 3.51 in five starts. Vazquez is 0-0 with a 1.32 ERA at Angel Stadium.
Abreu (22-for-74, 9 HR, .297) and Hunter (9-for-41, 10 K, .220) account for 80 percent of the Angels' roster's at-bats against the 33-year-old.
Kazmir pitched better in his last start against Detroit, allowing two runs in 5 2/3 innings, while fanning seven and walking none. This followed a shelling at the hands of the Yanks, which touched him up for six runs in four innings on April 15.
The lefty is now 6-6 with a 3.14 ERA in 16 games (15 starts) versus New York.
Of all the pitchers which Jeter has at least 25 plate appearances against, the captain has the lowest average (.154) facing Kazmir. However, he did homer and double off him in their last meeting.
Robinson Cano (6-for-29, 9 K, .207) also struggles against Kazmir, but Posada (11-for-27, .407) and Teixeira (7-for-12, .583) do not. Neither does Marcus Thames (7-for-17, .412), who should get the start on Sunday in place of Brett Gardner (1-for-6, 3 K, .167).
Follow me on Twitter at JordanHarrison .
Jordan Schwartz is one of Bleacher Report's New York Yankees and College Basketball Featured Columnists. His book Memoirs of the Unaccomplished Man is available at amazon.com, barnesandnoble.com, and authorhouse.com.
Jordan can be reached at jordanschwartz2003@yahoo.com
Read more New York Yankees news on BleacherReport.com