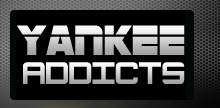 April 14, 2010 · Jordan Schwartz · Jump to comments
Article Source: Bleacher Report - New York Yankees
He's only two starts into the 2010 season, but Javier Vazquez is not providing the depth promised when the Yankees acquired him via a trade in December.
After a 5 2/3-inning debut in which he surrendered eight runs against the Rays, the right-hander once again failed to escape the sixth frame on Wednesday, when he yielded four runs in a 5-3 loss to the Angels.
Vazquez is now 0-2 with a 9.82 ERA.
But this should be no surprise to fans who watched him labor through his first tour of duty in the Bronx back in '04. That year, he posted a 4.91 ERA and threw only 198 innings, his lowest total in the past 10 seasons.
Many thought Vazquez was a great addition to the Yankees' rotation because of his 15-10 record and 2.87 ERA with the Braves last year that propelled him to a fourth-place finish in the Cy Young Award voting.
But that, of course, was in the National League. The American League is a whole different story.
During his eight seasons in the NL, the right-hander had a 4.02 ERA. In his four prior years in the AL, Vazquez had a more pedestrian 4.52 mark.
That includes the '04 regular season in pinstripes, after which the pitcher allowed 12 earned runs in 11 1/3 playoff innings.
Vazquez may turn things around, but no one should be shocked by his shaky start.
Here are the grades from the Yankees' loss to the Angels on Wednesday.
Javier Vazquez, SP: (D) The 33-year-old allowed six hits and two walks, while striking out four and tossing one wild pitch.
Joe Girardi, Manager: (C) There wasn't a lot the skipper could do in this one, being that the Bombers managed just five baserunners in seven innings off Angels starter Joel Pineiro. But even when the Yanks did get men on, Girardi didn't attempt a single steal or bunt.
Derek Jeter, SS: (A) The captain continued his solid start by going 2-for-4 with a run scored, raising his average to .324.
Nick Johnson, DH: (C) Johnson's only bright spot amid two strikeouts was an RBI single in the eighth.
Mark Teixeira, 1B: (D) Teixeira doesn't have the excuse of no Alex Rodriguez behind him in the order this April. The first baseman did drive in a run thanks to a ground out in the eighth, but his 0-for-4 day drops him to .097 on the season.
Alex Rodriguez, 3B: (D) A-Rod had a no-contact day, striking out three times and walking once.
Robinson Cano, 2B: (A) Cano was 2-for-4 with a double and a run scored, and is now hitting .382.
Jorge Posada, C: (C-) Posada picked up another hit and is off to a scorching .400 start at the plate, but he continues to be among the worst defensive catchers in the game. Posada had a passed ball and only gunned down one of three base stealers, his first of the season, which only came when Bobby Abreu inexplicably attempted to steal third with two outs.
Curtis Granderson, CF: (F) Granderson cooled off a bit with an 0-for-4.
Nick Swisher, RF: (B-) Swisher's lone highlight was an RBI triple in the fifth.
Brett Gardner, LF: (C-) Gardner is hitless in his last 11 at-bats and he's still refusing to bunt, despite his great speed.
Alfredo Aceves, RP: (D+) Aceves gave up a run on three hits and a walk in 1 1/3 innings.
Joba Chamberlain, RP*: (A-)
Damaso Marte, RP: (A) Marte pitched a perfect ninth.
Yankees Overall Grade: (C-) The Bombers do not have a strong back-end of the rotation. It will be interesting to see how they perform all season with consecutive starts by Vazquez and Phil Hughes, Thursday's starter in the rubber game against the Angels.
Follow me on Twitter at JordanHarrison .
Jordan Schwartz is one of Bleacher Report's New York Yankees and College Basketball Featured Columnists. His book Memoirs of the Unaccomplished Man is available at amazon.com, barnesandnoble.com, and authorhouse.com.
Jordan can be reached at jordanschwartz2003@yahoo.com
Read more New York Yankees news on BleacherReport.com