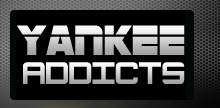 November 21, 2011 · chris brunau · Jump to comments
Article Source: Bleacher Report - New York Yankees
The possibility of the Yankees and Braves hooking up again for a trade seems a whole lot more likely, after the Daily News reported that the Braves are interested in the budding SS Eduardo Nunez.
Nunez played a major role in 2011 for New York, appearing in 112 games at both SS and 3b, filling in for either Alex Rodriguez while he was hurt, Derek Jeter while he was hurt, or while one of the two would get a half day off and DH. Although Nunez didn't play very well in the field, often committing errors, he was great at the plate for such a young player. Nunez hit .265, with 22 SB, five home runs, and an OBP of .313.
The Braves are making it clear that they are not very keen on bringing Alex Gonzalez back, so Nunez may be a good fit.
Trade for Jurrjens
The Yankees will likely want to make a deal centered around Jair Jurrjens, the Braves' young star. Jurrjens pitched 152 innings in 2011, with 90 Ks, an ERA of 2.96 and a WHIP of 1.22. Jurrjens is an attractive 2-3 starter for the Yankees, at 25 years old and a salary of 3.25 million in 2011.
The Yankees do feel high on Nunez, but it's pretty clear they are set with offense, and pitching is their concern.
The Daily News speculated that the Yankees would have to throw in Nick Swisher in a deal for Jurrjens as well, something that Brian Cashman has hinted he is not opposed to. Swisher has been good for the Yankees, not counting the playoffs, and he has been great in the clubhouse. But young, talented pitching is something the Yankees wouldn't mind having more of. Go for Beltran or Cespedes If the Yankees are to trade away Nunez and Swisher, there are multiple possibilities to pursue.
Nunez is the backup infielder as is, and the Yankees could use a combination of Brandon Laird at third and Ramiro Pena at SS to give A-Rod and Jeter time off when needed. Also, Eric Chavez, if the Yankees bring him back, will be the main backup at third behind A-Rod.
The best part about this deal, is that the Yankees won't have to include Jesus Montero or The Killer Bs.
Go after Beltran or Cespedes
As far as the outfield, the Yankees could look within their system, to Greg Golson or Chris Dickerson, although it isn't very likely they have enough faith in making either of these two every-day players. It is more likely they bring back Andruw Jones as an option to play RF, or maybe they go a different route and target free agent Carlos Beltran or Cuban phenom Yoenis Cespedes. Beltran and Cespedes would be more expensive options, but both have a potential high reward.
Put Montero in Right Field
Another possibility, which will not happen, but I still like it, is putting Jesus Montero in RF, if Nick Swisher is traded away. You could platoon him with Dickerson, Golson and Jones, until Montero is more comfortable. It would solve the problem of the Yankees not feeling comfortable putting him behind the plate, while still allowing for him to have major at bats. Before you say Montero isn't athletic enough to play the OF, look at what Lance Berkman did this year. He wasn't exactly a gold glover, but he played very well, well enough to stay in the OF through the World Series and win a ring. This is all pure speculation, but it provides a few interesting scenarios that the Yankees could possibly follow.
Read more New York Yankees news on BleacherReport.com