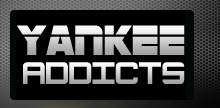 March 31, 2010 · Bronx Baseball Daily · Jump to comments
Article Source: Bleacher Report - New York Yankees
Sorry about the updates being so late in the day today. I had a bit of running around to do this morning.
Just four days until the season starts—who's excited? I am.
On to the news:
* Mark Teixeira took a pitch to the elbow on Monday, but he took batting practice today and said that swelling was minimal. He expects to be in the lineup tomorrow. "Very lucky," Teixeira said about his elbow. "Any time you get hit on a bone, a lot of bad things can happen."
* Alfredo Aceves has been dealing with a sore back for the last couple of days. Manager Joe Girardi said he expects that he'll be ready for the season, but there is a possibility that he could land on the DL. "I think we have to have him throw another time before we leave to see how he is, or he'll be a candidate for the disabled list," Girardi said. "I'm pretty confident we will. I think it will calm down."
* Jon Weber and David Winfree were cut from the big league camp last night. Neither stood a chance at joining the Yankees out of spring training, but after hitting .483 this spring, Weber could have if only he were a righty. "He did everything he could do," Girardi said about Weber. "He's definitely opened some eyes, for sure."
Not much to say about the injuries, but this is the point in the spring that more than ever you don't want guys dealing with this kind of stuff. Obviously you never want to see a player get hurt, but if it had happened earlier, at least they get more time to recuperate. At this point there are only four days; these guys have got to be ready.
As for Jon Weber, maybe he opened some eyes this spring, but don't go around thinking that he's going to be more than a spare part for the Yankees at best this season.
If he was a right-handed hitter he might have had a shot at making the team, but unless he learns to switch hit, it isn't going to change the fact that Curtis Granderson needs a right-handed hitter to complement him. Another lefty doesn't do much for this team now or in July. The Yankees would probably only call him up after an injury or two, and even then his stint would be brief.
Related Stories
Read more New York Yankees news on BleacherReport.com