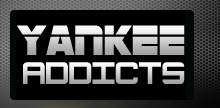 April 7, 2010 · Bronx Baseball Daily · Jump to comments
Article Source: Bleacher Report - New York Yankees
Sunday night's loss was a tough one for the Yankees and the bullpen, but they turned it around last night as they beat the Red Sox 6-4 to improve their record to 1-1.
Here are some notes:
Jorge Posada caught AJ Burnett yesterday and the world didn't explode. Actually, Burnett had some nice things to say about Jorge: "When he's blocking 57 footers early, you keep throwing them, absolutely," Burnett said . "I was so at ease out there, just working with him."
Nick Johnson 's batting average: .000, RBI: 1, OBP: .500. He hasn't gotten a hit through two games, but he's walked four times, including once with the bases loaded, and was hit by a pitch.
There seemed to be a lot of fans unhappy when Joe Girardi pulled David Robertson out of the game last night after just one batter and no outs. Girardi said after the game that he would have left Robertson in had he retired Kevin Youkilis, but after Youk reached base Girardi decided to go with the lefty against David Ortiz and a runner on.
Alfredo Aceves dealt with back issues late in spring training, but he looked great last night as he pitched two perfect innings.
Damaso Marte also looked good against his only batter which is a good sign as he's now pitched twice in three days and hasn't complained about his shoulder, which was sore late in spring training. Now if he could just avoid throwing the ball away.
Joba Chamberlain looked as good as he did last May 5 when he struck out 12 Red Sox. Unfortunately, this time he only faced two batters, but at least he struck them both out. He topped out at 96.4 mph.
Mariano Rivera is ageless.
Thoughts : Maybe Burnett liked Posada last night, but so far his defense has looked terrible for the most part. Francisco Cervelli might not be Burnett's personal catcher, but he's going to get into a lot of games if Posada keeps up his bad defense.
Johnson has come as advertised so far. He works into deep counts and forces pitchers to make good pitches. Hideki Okajima didn't make good pitches last night and he paid for it as he walked in the go-ahead run. Gotta love Johnson, he just finds ways to get on base. My guess is that, batting in the No. 2 spot for the Yankees, he's going to set a personal record for runs scored this season.
As much as people complained about Girardi over-managing last night, the fact is that every game, even an early April game, is important, and considering the fact that the AL East is so stacked, it could come down to one win.
I have no problem with Girardi doing what he has to do to get the matchup he wants in a very close game in the eighth inning against the Red Sox. It's not like this was the fourth inning with a five-run lead against the Royals. Yeah, maybe Robertson could have gotten Ortiz, but Marte is on the team specifically for that situation. Not using him would be a bigger mistake than making too many bullpen moves.
Two appearances for Joba so far this season, and as good as he was last night, he was just as bad Sunday night. His consistency issues are not behind him.
Related Stories
Read more New York Yankees news on BleacherReport.com