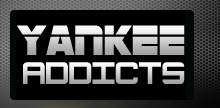 June 8, 2009 · Danny Pazos · Jump to comments
Article Source: Bleacher Report - New York Yankees
Anyone who has been to Yankee Stadium has seen the players immortalized in Monument Park. Their names, numbers, and faces are forever tied to the history of the Bronx Bombers. Names like Ruth, Gehrig, DiMaggio, Berra, and Jackson, evoke feelings of pride, passion, and greatness for all Yankee fans.
Unfortunately these names do not.
Welcome to the Yankee Hall Of Shame, where players are remember for being the worst of the worst to put on the pinstripes and trot out onto the field in the Bronx.
Despite what they might have done career wise,the Yankee Hall Of Shame remembers players for how they played while wearing a Yankee uniform, and what feelings Yankee fans remeber from seeing them step on the field.