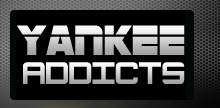 News published by
May 23, 2010
Lets face it, The New York Yankees are playing hurt and tired. Not including the PPD game on May 11 in Detroit, The Yankees have played 17 straight games, including a ...
May 19, 2010
With the news coming in from all over that Nick Johnson will need wrist surgery and will be out until at least July, the Yankees have found themselves without an ...
May 16, 2010
Let's face it, despite the team's recent success, the New York Yankee outfield isn't looking too promising right now. At the start of the season, the Yankee outfield was seeing great ...
November 3, 2009
As the 2009 World Series moves back to the Bronx, the Philadelphia Phillies once again put the ball in the hands of Pedro Martinez. The Phillies, after witnessing Martinez's performance in Game ...
August 14, 2009
When was the last time Johnny Damon looked like this? The Yankees are currently riding the gravy train into the middle of August, and one of their best producers has been ...
July 21, 2009
It is July 22nd, and The New York Yankees are in first place for the first time since June eighth. The Bombers being the current Kings of the AL East is ...
July 21, 2009
Last night, the eighth inning for the Orioles did not go so well. The game was tied at one, and had been close all the way through. It was very apparent that this ...
July 18, 2009
I'll start this one off by stating two obvious facts. The first, Johnny Damon's best baseball years are behind him. The second, it is impossible to make noise quietly, unless, of course, it ...
July 14, 2009
Mariano Rivera the best closer to throw a baseball in the Bronx. He may be the greatest closer to throw a baseball in the postseason. Tuesday night in St. Louis he may have ...
July 11, 2009
Sometimes the Yankees make certain moves that are classifed as "desperate." Upon learning that the Bombers had traded for Eric Hinske, most would criticize this move as a sad attempt at ...