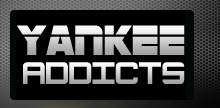 October 25, 2010 · Kate Conroy · Jump to comments
Article Source: Bleacher Report - New York Yankees
Just in case you didn't know, a 2009 World Series rematch between the New York Yankees and Philadelphia Phillies is not happening.
To many baseball fans surprise, both powerhouse ballclubs lost in the Championship Series. Some might say the Phillies and Yankees lacked the heart, as making the postseason is basically part of the regular schedules.
Regardless of the reason, a loss is a loss no matter how it happened, who was injured, why so many players were slumping or if a team had too many days off.
So now the 2010 World Series starts on Wednesday in San Francisco, CA.
The city's Giants will host the Texas Rangers for the first two games of a seven-game battle where only one team will leave as champions. The other team will leave with nothing, as nobody gets introduced as the "team that lost in the 2010 World Series."

Will I watch the 2010 World Series?
Yes, but not if something better is on or I go out. Also, I am a huge baseball fan so whether I watch or not doesn't speak for much of the norm.
The best matchup of the series and only one other teams fans might watch is on Wednesday night. Game 1 features the Rangers' Cliff Lee vs. the Giants' Timmy Lincecum, who are both legitimate Cy Young-winning pitchers.

Why will New York Yankees fans watch Game 1 of the 2010 World Series?
Cliff Lee is a free agent after the World Series ends and all of baseball is drooling just at the thought of acquiring Lee. Yankees Universe wants him, CC Sabathia is his buddy and fans will get excited with the realization that they get what they want.

Who do I predict to win in this battle on the mound?
Picking a winner between Lee and Lincecum is a toss-up because if both are throwing heat, which has been the trend it could fall either way. Since Texas and San Francisco barely face each other in the regular season, if ever makes both the pitchers become even more devastating.
If this winds up being the case, my guess is Cliff Lee would win. The Rangers are better hitters than the Giants. Also, Lee has been in the postseason before, pitching for both an AL and NL team.
To be more specific Texas has Josh Hamilton in their lineup, and a hot-hitting Hamilton is lethal no matter who is pitching. The guy is a machine and was just crowned the ALCS MVP. Imagine where Hamilton would be if he didn't do all those drugs, because it doesn't seem possible to be any better.
Lincecum is six-plus years younger than Lee. It is only Lincecum's fourth season as a professional, and this is his first postseason ever. Also called the Freak, Lincecum has been dominating in the playoffs thus far, striking out 14 in the NLDS.
Mind you, Big Time Timmy Jim has won two Cy Young awards in his first three seasons. As many claim Lincecum is the best pitcher of the last two seasons without question.
What I have noticed watching this postseason is hitters make contact with Lincecum, but not with Lee. Lee shutdown the two best hitting teams in baseball, Tampa Bay Rays and New York Yankees so the Giants will presumably be no threat.
The World Series is a different monster, as it's one of the biggest stages in all of sports. It's a stage that Cliff Lee seems to be nothing but flawless on, and I don't see that changing on Wednesday night in Game one.

Who Do I Predict Will Win Game 1?
Texas Rangers win 3-1, and Cliff Lee gets the win, one RBI and a home run (kidding about the home-run, but you never know with this guy).
Read more New York Yankees news on BleacherReport.com