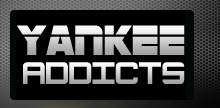 May 5, 2009 · Perry Arnold · Jump to comments
Article Source: Bleacher Report - New York Yankees
It has just been reported that New York Yankee catcher, Jorge Posada, will go on the disabled list after re-injuring his right hamstring in last night's game against Boston.
Posada had two hits in the game to raise his season average to .312, but it is not yet known how long he will be lost to the Yankees.
The backup catcher is Jose Molina who is generally regarded as a superior defensive catcher, but is not adequate on offense. Only Molina's weak bat has kept him off major league starting teams his entire career.
The Yankees must dig into their minor leagues to find a replacement for Posada. At the time this is being written it is uncertain who will get the call to the big club.
But the most likely call up may be P. J. Pilittere, pictured above. Pilittere is playing at the Yankees Triple A Scranton team and in twelve games is hitting .317.
Pilittere played 97 games at Double A Trenton last year finishing the season with a .277 batting average. He is 27-years-old.
The Yankees could also look to another backstop at Scranton and call on Chris Stewart who has a little more experience, including a few games with the White Sox last year.
The Yankees acquired Stewart from Chicago during Spring Training. He is also 27-years-old and in 86 games in the minors in 2008 he hit .279.
The Bombers also acquired Kevin Cash in the off season from rival Boston, but Cash is currently on the disabled list at Triple A in Scranton.
When one looks deeper into the Yankee farm system there are a number of catching prospects but none seem ready to make the leap to New York.
Jose Gil has been a catcher on the Yankee radar for the past four years. He is still only 22-years-old. Thus far he has shown little ability with the bat in the lower minors.
In 2007 at Charlestown, Gil hit only .221 and last season at Tampa, in 73 games, he raised his average only to .240.
Kyle Anson is 26-years-old and is with the Yankees' Double A Trenton Thunder team. Anson has played in 16 games this year and is hitting only .190.
But last year he hit .300 at Tampa before being promoted to Trenton where he finished the year hitting .315.
The two most talked about catching prospects are now in Tampa.
Austin Romine is just 20-years-old and so far this season in 24 games he is hitting .281.
Romine played in 104 games in 2008 and finished the season with a .300 batting average.
The other huge prospect, in more ways than one, is Jesus Montero, also at Tampa.
Montero is even younger than Romine, turning only 19 years old last November. And Montero is thought by some to be too big to be a prime prospect as a major league catcher.
There was thought that the Yankees would eventually groom Montero to play first base. But with the acquisition of Mark Teixeira and the execution of an eight year contract, Montero will never play first base for New York.
In 2008 Montero played at Charleston and for the Riverdogs he hit .326 with 17 home runs in 132 games and 525 at bats.
Montero seems to be the long term prospect with the best possibilities to replace Posada's bat in the Yankee lineup.
But he is too young and there are far too many obstacles to pencil Montero into the New York lineup any time soon.
Jorge Posada will turn 38 years old in August this year. He has returned to the Yankees after season ending shoulder surgery in 2008.
The surgery was very serious, involving not only the labrum, but also the rotator cuff and there were many who doubted Posada would be ready to catch by opening day this year.
Posada worked very hard in the off season and had his arm in shape to throw from behind the plate. But he has been bothered twice this season with leg issues.
He first came up gimpy in the recent road trip in Detroit and re-injured himself last night on a cold, rainy night in the Bronx after the game had been delayed for two hours and eighteen minutes.
After collecting two hits Posada came up lame at second base and despite trying to rub out his hamstring, he had to be removed.
After the MRI, it was confirmed that the problem is serious enough to put him on the disabled list.
Yankee fans have to hope that it is a short stay and that his bat will be back in the lineup very shortly.
But the stress and strain on a catcher's legs have to concern Yankee management. Even if Posada can return and hit, the strain on his legs may prevent his use as a catcher in anything like a full time role.
It is more likely that when Posada returns the Yankees will have to afford the luxury of keeping a third catcher on the team, as they did for a short period last year when Posada tried to play after he had first injured his shoulder.
The team cannot risk going into the heart of the schedule with a catcher and a half.
Right now, the best bet would seem to be that Pilittere will get the call to make the short trip from Scranton to back up Molina.
But GM Brian Cashman has to be working the phones to see if better options are available through trade.