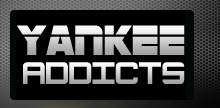 May 19, 2009 · Perry Arnold · Jump to comments
Article Source: Bleacher Report - New York Yankees
On May 4, 2009 Yankees starting catcher, Jorge Posada, strained his hamstring running the bases. He was put on the disabled list.
Jose Molina took over as the number one catcher and the Yankees called up Francisco Cervelli, the only other catcher on their forty man roster. Cervelli was playing at Double A Trenton at the time and was hitting .217.
Three days later, May 7, Molina was running home and came up lame with a strained quadriceps.
Cervelli replaced Molina in the game and when Molina went on the DL, Kevin Cash was called up from Triple A Scranton as the second catcher.
Cash had been on the minor league disabled list when he was called to New York.
It seemed at that time that things could not get much worse for the Yankees.
How were they supposed to get by with a Double A rookie who had not proven he could hit in the minors and a backup back stop who had been acquired from intradivision rival Boston in the off season?
If Cash had any worth, would Boston have let him go?
Since May 7 when Molina went down the Yankees record is 8-2. The primary catcher during that time has been the rookie, Cervelli.
And Cervelli has impressed. The pitchers have had high praise for him and so has the coaching staff.
All that would have been required of him was to call the games, keep runners aware of his presence behind the plate, and hit a little better than Cody Ransom was able to do in his failed experiment subbing for A-Rod.
Instead Cervelli has looked like a seasoned pro. He has real confidence behind the plate. He works well with his pitchers, seeming to give them confidence.
He has a cannon and is not afraid to use it. One of his first efforts at gunning someone down came in Baltimore when he threw out the super fast Adam Jones trying to steal second.
He has picked a runner off second who ventured too far in his walking lead. He has thrown behind runners and even speedy runners don't seem sure of themselves with Cervelli behind the plate.
Thus far he is hitting .375 and has an on base percentage north of .400. He is not going to continue to hit like that. But no one expects him too.
He also does the little things with the bat. Coming to the plate against the Twins Monday night, Cervelli found himself batting with no one out and runners on first and second.
The sacrifice bunt was called and Cervelli executed it perfectly moving Melky Cabrera and Ramiro Pena into scoring position.
Later in the game Cervelli was called on to lay down another sac bunt and again he did it perfectly. He showed that he can manage what has become a lost art in major league baseball.
The question that will confront the Yankees will be what to do with Cervelli once Posada and Molina are both healed.
There is no question the Yankees need Posada's bat in the lineup. There are glaring deficiencies in the Yankee order, even with the return of ARod.
Posada had been hitting extremely well before his injury. His bat must return to the lineup as soon as possible.
But will the Yankees have the courage to tell their old catcher (Posada will be 38 in August) that he will no longer be a regular behind the plate?
Designated Hitter, Hideki Matsui, is hitting .261 and is being taken out of almost every game when the other team starts a southpaw.
If the Yankees do as they should they will trade Matsui or release him if they can't get value in a trade. This is the last year of Matsui's contract and following two successive years when he required knee surgery he cannot run.
Matsui has to be cut loose and Posada should be inserted as the DH. That will give the Yankees a switch hitter as DH and will eliminate an advantage other teams have now when they start a lefty.
Jose Molina should be treated a little bit differently. He should remain on an extended DL until it is determined whether Cervelli can really serve as the Yankees full time catcher.
If Cervelli is hitting .280 after forty games with the big league team, Molina should be traded for value or released.
Molina is an excellent backstop, far superior to Posada. But Molina cannot hit. The Yankees cannot afford to keep him just to catch.
The Yankees started the season with an experiment in centerfield. Brett Gardner who was unable to hit in his brief trial in New York last summer, won the starting centerfield job from Melky Cabrera.
But Gardner has proven again that he cannot hit. He is a weakness that the Yankees are carrying in part because of his speed, but more because manager, Joe Girardi has fallen in love with the kid and will not let him go.
The loss of right fielder, Xavier Nady, to the DL meant that Nick Swisher became the starter in right.
But after a blazing start, Swisher has been horrible at the plate. After Monday's finale with the Twinkies, Swish is hitting just .236.
But even worse, Swisher is choking off rallies with an unbelievable number of strikeouts. In the last thirteen games, with 38 at bats, Swisher had struck out 18 times.
Usually reliable shortstop and captain, Derek Jeter, has been injured again. Jeter missed two games in Toronto with a strained oblique muscle and has just not been himself.
Jeter was moved to the leadoff spot and started very hot. But he has now slowed remarkably and is hitting only .275.
So the Yankees have to have Posada's bat, but should not want him behind the plate on an regular basis.
Cervelli should be given a chance to be the regular catcher.
But the Yankees probably will not have the courage to make that move.
In all likelihood when Posada and Molina both come off the DL, they will be returned to the team and Cervelli will be sent back to the minors.
It will be a mistake by weak management that may cost the Yankees a playoff spot for the second year in a row.