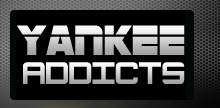 December 23, 2009 · Amanda Bruno · Jump to comments
Article Source: Bleacher Report - New York Yankees
There's something cooking in New York and no, it's not the Mets.
Unless, there's another sure deal in the works.
That's where Jason Bay comes in.
Bay could very well be the newest signing in New York after Christmas.
If that does happen, where does this leave Red Sox fans?
Will he be another traitor just like Damon?
Will fans boo him so hard every time his name is announced or comes to the plate at Fenway they'll lose their voices?
Or how about making creative signs to show their true feelings?
But it's true props to Theo Epstein for finding him first.
Read more New York Yankees news on BleacherReport.com