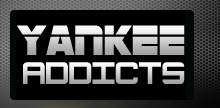 News published by
January 8, 2010
Is this really for real? John Lackey? Mike Cameron? Marco Scutaro? Adrian Beltre? It's almost a dream for Boston Red Sox fans, and if Adrian Gonzalez was in the picture, we'd be on Cloud Nine. Theo ...
December 23, 2009
There's something cooking in New York and no, it's not the Mets. Melky Cabrera got shipped away to the Atlanta Braves in exchange for Javier Vazquez and he'll have his second ...
December 16, 2009
Theo Epstein, you're a fool if you trade away Jacoby Ellsbury, one of your homegrown—even if it's to bring in Adrian Gonzalez from the San Diego Padres. Why in the world ...
November 12, 2009
Roy Halladay in pinstripes? This could very well be a possibility, but the question is, why? Why do the reigning World Series Champions need to add another ace to their already proven ...
September 27, 2009
It was a slap in the face to the Boston Red Sox today at Yankees Stadium, but it's not over. After missing out on the playoffs a year ago, the New ...
September 25, 2009
Now this is just plain wrong, Red Sox fan or not. On Syracuse.com, the Post-Standard's official Web site, the featured story is about nine-year-old student Nathan Johns who was forced to ...
August 3, 2009
It's just what the doctor ordered: A full throttle walloping of the last place Baltimore Orioles in the American League East. The Boston Red Sox got off to a good start ...
July 23, 2009
Thursday morning Red Sox Nation screamed, "Hallelujah!" Why? Well, because the Boston Red Sox aren't playing today. Wow. Fans are actually happy about an off day? What's going on here? For the first ...
July 21, 2009
The Boston Red Sox are sending the right guy to the mound tonight, looking to end a demanding three-game skid, which has cost them sole first place in the American ...
June 23, 2009
Those poor Washington Nationals.  Is it safe to say that everyone should feel sorry for them? Buried in the midst of the National League East, the Nationals sit in last place not ...