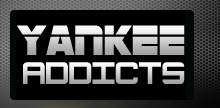 December 16, 2009 · Amanda Bruno · Jump to comments
Article Source: Bleacher Report - New York Yankees
Theo Epstein, you're a fool if you trade away Jacoby Ellsbury, one of your homegrown—even if it's to bring in Adrian Gonzalez from the San Diego Padres.
Why in the world would you trade away a clutch defender who has 70 steals and is a leadoff hitter—something a
Boston Red Sox
team has never had?
There are other options, Theo. Even if it's parting with
Clay Buchholz
, which would also be a shame since the starting rotation on paper looks to be more deadly than even the reigning World Champions' (dare I say it)
New York Yankees
.
Tim Wakefield will be iffy in 2010, without question, so why ship away a reliable arm?
The signings of John Lackey and Mike Cameron make it easier to trade both Buchholz and Ellsbury, however, who is going to play leftfield and who'll lead off?
Yes, I know, it'll be for Gonzalez, the 27-year-old who hit 40 home runs, drove in 99 runs, and walked 119 times, but you can't have enough pitching—unless Boston might be willing to risk it and sign
Chien-Ming Wang
, who left the
Yankees
on not-so-good terms.
Just in case you've forgotten, Wang was the Yankees' No. 1 starter and won 19 games in 2006 and 2007.
Marco Scutaro can't lead off and he certainly won't steal 70 bags.
Move Ellsbury to leftfield if you have to because, whether you like it or not, Jason Bay is not coming back. It's quite a shame really, but what are you going to do?
The Sox would be deadly if they acquired Gonzalez, and the move makes sense, but throw in Max Ramirez instead of Ellsbury. But there are other options; this isn't Nomar Garciaparra.
Read more New York Yankees news on BleacherReport.com