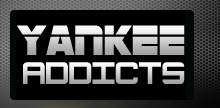 June 18, 2009 · Jake D'Agostino · Jump to comments
Article Source: Bleacher Report - New York Yankees
Talk about a slug fest. The Yankees mopped up their downtown rival Mets on Sunday, June 14. The final score was 15-0 in favor of the Bronx Bombers, a win that could prove monumental for their team morale.
Inconsistencies early on and the inability to defeat their hated rival Red Sox may linger in the minds of the Yankee players and coaches, but this win should help raise their spirits.
It took until the bottom of the second inning for the Yankees to get started. The scoring began when Francisco Cervelli knocked in one run on a single that allowed Robinson Cano to score against Mets' ace Johan Santana. The inning continued when Derek Jeter hit an RBI single, bringing in Hideki Matsui. The last score of the inning came when Johnny Damon singled and allowed Cervelli and Jeter to score, giving the Yankees a 4-0 lead.
We move to the fourth inning, where Hideki Matsui hit a two-run homer for the Yanks, allowing Nick Swisher to score. The Captain (this is obviously Jeter) then added another RBI when he drove in Melky Cabrera on a single.
Alex Rodriguez was able to reach first with the bases loaded, allowing Jeter to score. Unfortunately, he also grounded into a double play, wasting a key opportunity for the Yankees to score more runs. A-Rod would soon score after a two-run shot from Robinson Cano.
Melky Cabrera made the most of his second appearance at the plate that inning by hitting a double to score Swisher and Matsui. Unfortunately, he was caught trying to turn his double into a triple, ending the inning with the Yankees up 13-0.
The scoring picked up again in the seventh with Ramiro Pena singling with the bases loaded, allowing Angel Berroa to reach home plate. Finally, Robinson Cano hit a sacrifice fly that allowed Johnny Damon to score and give the team in pinstripes a 15-0 lead.
While all of this occurred, A.J. Burnett quietly picked up his third victory out of his last four starts. He pitched seven shutout innings, while only allowing four hits. He had eight strikeouts and managed to walk only four batters.
Burnett was relieved by David Robinson in the eighth inning, who recorded a pair of strikeouts and did not allow any batters to reach base.
Phil Hughes pitched the ninth, allowing two hits, while striking out a couple of Mets' batters.
This tremendous effort by Joe Girardi's boys may serve as a confidence booster for the rest of the season. They will need it if they look to overcome their hated rivals from Boston, as stellar performances like this will be crucial against a quality team like the Red Sox.
This win puts them at 36-27, as of June 14. Will they continue their uphill climb against the Nationals? Where will they go from there?
These are the questions that the Bronx Bombers will be forced to answer from here on out, and although this was one sweet victory, they must understand that tougher times may lie ahead.