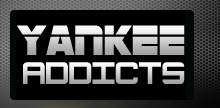 News published by
September 13, 2009
Sept. 11, 2009 will be a day to go down in the history books for the Yankees and the entire MLB. This is because it is the day that Derek Jeter ...
July 24, 2009
Every Yankees' fan will agree: There is no team you love to hate more than the Boston Red Sox. For years, they were just an annoying little brother, but now ...
June 18, 2009
Talk about a slug fest. The Yankees mopped up their downtown rival Mets on Sunday, June 14. The final score was 15-0 in favor of the Bronx Bombers, a win ...