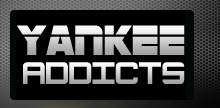 June 4, 2013 · Ely Sussman · Jump to comments
Article Source: Bleacher Report - New York Yankees
New York Yankees owner Hal Steinbrenner and general manager Brian Cashman were refreshingly candid when commenting on Alex Rodriguez's tenure with the team (via Wallace Matthews, ESPNNewYork.com).
Steinbrenner was then asked if the Yankees had been disappointed in Rodriguez, who over the past two seasons has averaged 17 home runs and 60 RBIs while posting a .275 batting average.

"There have no doubt been times that we've been disappointed in him and we've conveyed that to him," Steinbrenner said. "He understands that. Look, everybody is human. Everybody makes mistakes. If you've got a guy over the course of 10 years, there are going to be times any of us makes mistakes in that period of time."
The veteran GM made his original statements to Peter Botte of the New York Daily News:
"Hopefully he can return to being at the very least an above-average player at (third base) because that's what he's been for the last few years," Cashman said. "Once his injuries came into play with him, they may have taken away his ability to be a superstar. But he's still an above-average player at that position and hopefully that's what we're going to get."

"It's an enormous contract and I think that, I would say probably, he couldn't live up to it. But he's doing everything he can to try to do so."
That sets up a potentially-awkward situation once the third baseman recovers from offseason hip surgery. As of May 20, A-Rod was reporting to a minor league complex in Tampa, fielding grounders and taking swings in the batting cage (h/t SI.com). And even if setbacks prevent him from returning to the active roster in 2013, there's still another four long years and $86 million guaranteed on his decade-long contract.
What sort of circumstances would lead Yankees executives and fans to actually welcome the faded and disgraced superstar back into pinstripes?
Stating the obvious, Rodriguez is not a likable individual. The Twitter hate is especially prevalent right now because he isn't physically able to drown it out with on-field production.
Here's Yankees fan Paige DeGeorge:
I love to hate ARod it's an interesting relationship like I just laugh at him don't even bother getting mad anymore

— Paige DeGeorge(@PhilRudd_) June 3, 2013
Nicholas Bucciero makes a broader statement about the entire fanbase:
These Yankee fans are programmed to love Jeter, know Pettitte, just start to like Mo, and hate Alex Rodriguez.

— Nicholas Bucciero (@Bad_Bruce) May 29, 2013
But "The Rebel Princess" doesn't want us dismissing how his 1.308 OPS in the 2009 postseason helped New York to a World Series title:
not all of us yankees fans are AROD haters. I for one am not & if you are a TRUE #yankee fan, you cant hate after what he did for us in 2009

— The Rebel Princess (@rebelprincessny) October 12, 2012
The 37-year-old certainly hasn't gained any admirers in recent months. Remember that in April, several months after being linked to the Biogenesis anti-aging clinic/PED supplier, the New York Daily News learned that he bought documents to protect himself while Major League Baseball investigates.
Those people who never condone juicing will only take a stronger anti-A-Rod stance if he's caught a second time. Despite the gaudy career numbers, he'll be excluded from the Hall of Fame and emphatically booed on the road.
Speaking of numbers, let's analyze his to see what the Yankees can expect on the field.
A-Rod's OPS has steadily declined from an AL-leading 1.067 mark in 2007 to a pedestrian .783 last summer. Without enough bat speed to make frequent contact or the agility to leg out many extra-base hits, he'll be much closer to the latter number from here on out. The 2012 season was the first time he suffered from dramatic platoon splits, so it's a bit premature to demand that he sit against right-handers. With the glove, Rodriguez is relatively sure-handed, albeit lacking range (via FanGraphs).
Sounds a lot like Kevin Youkilis, right? Rookie David Adams has regressed from a sizzling start, while Eduardo Nunez is injured and seen as an undesirable option because of his tendency to botch routine plays. In summary, the Yankees third-base job is very much up for grabs.
This franchise has an unquenchable thirst for winning, and Rodriguez's return to full strength could be imperative to clinching a playoff berth. Reverting to 2011 form (.276/.362/.461, .905 OPS with RISP) would qualify him to hit directly behind Robinson Cano. He provided 3.8 WAR in 99 games with those stats, according to Baseball-Reference.com; halving that suggests he could account for two wins if healthy and utilized for most of the season's second half.
Sure, it's improbable. As soon as the league finds cold, hard proof of post-2003 substance abuse, it will hit him with a suspension. Given the latest report from ESPN's Outside the Lines, such an action could be made official "within the next few weeks.".
Regardless, neither an on-field resurgence nor any number of clutch playoff hits would compensate for doping while under contract with the Bombers.
Read more New York Yankees news on BleacherReport.com