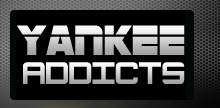 News published by
December 6, 2013
Nobody is offering the New York Yankees a shoulder to cry on following Friday's free-agent departures of Robinson Cano and Curtis Granderson. That's because the club opened up its wallet this ...
October 11, 2013
Like Yu Darvish and Hyun-jin Ryu before him, right-hander Masahiro Tanaka is a coveted ace from the Far East who's expected to make the leap to Major League Baseball through ...
September 29, 2013
After 19 major league seasons and five championships, Mariano Rivera confirmed on Saturday that his career was over. He will be sorely missed by fans of the New York Yankees, but ...
September 20, 2013
The San Francisco Giants went to their bullpen on Friday night with two outs in the seventh inning, and Alex Rodriguez made them regret it. His opposite-field home run not ...
September 6, 2013
Consecutive losses have all but eliminated the New York Yankees from AL East title contention, and late Friday night, the injury bug took a sizable bite out of their bullpen. From ...
September 6, 2013
Losing to the AL East-leading Boston Red Sox on Thursday night in heartbreaking fashion suggests that the New York Yankees don't have quite enough comeback magic to qualify for the ...
August 5, 2013
Finally, Major League Baseball has suspended polarizing slugger Alex Rodriguez, announcing a 211-game ban that takes effect Thursday and lasts through the end of the 2014 season. Missing all that ...
July 31, 2013
Nobody in Major League Baseball is pleased with Alex Rodriguez, whose conflicts with the New York Yankees and the league itself have overshadowed an otherwise exhilarating season. Meanwhile, Roger Clemens, another ...
July 26, 2013
Nearly 10 years after trading away Alfonso Soriano, the New York Yankees have officially reacquired him to bolster their ailing lineup, tweets ESPN.com's Jim Bowden: MLB has approved the trade of ...
July 16, 2013
New York Yankees closer Mariano Rivera has pitched in eight MLB All-Star Games and made five career appearances at Citi Field. Combining past regular seasons and playoff runs, the Sandman ...