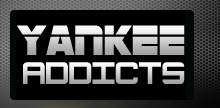 May 19, 2009 · Tom Au · Jump to comments
Article Source: Bleacher Report - New York Yankees
At least Yankee fans should be hoping that the Blue Jays win, if not sweep, the upcoming series against the Boston Red Sox.
It goes beyond the vaunted New York-Boston rivalry—major strategic considerations are involved.
Four-and-a-half games out of first place in the American League East, the Yankees can't take first place within the next three games. However, only one game out of the wild card lead means they can tie the Red Sox if they win more games by the end of the week.
Besides, the Red Sox are the Yankees' more dangerous opponent, the Blue Jays' AL East lead notwithstanding.
Boston is up 5-0 against New York so far this season. Without those games, the Yankees would be 22-12, and the Red Sox would be barely above .500 at 16-15. The Yankees would be tailing the Jays, and the Red Sox deemed a wild card underdog.
But those five games did happen, and the Red Sox do have the lead in the wild card race early in the season.
Fortunately for them, the Yankees can beat the Blue Jays. They took the first series 2-1.
That's not to say that they will win the season series, but it's comforting to fans to see their Yanks as sturdy opponents against this team.
But if the Yankees can't beat the Red Sox, they'd better hope that someone else can do it for them. Right now that someone else is the Blue Jays.
"The enemy of my enemy is my friend."
Then it could be Yankees-Blue Jays in the postseason.