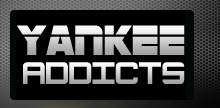 News published by
August 25, 2013
Saturday's duel between the Tampa Bay Rays' ace, David Price, and the Yankees' ace, CC Sabathia was basically a microcosm of the season-long fact that the Ray's ace is decidedly ...
September 10, 2012
The Yankees were "not guilty as charged" in Saturday's game. Or maybe one should say that this was true for a particular Yankee. But they paid the price, not only ...
September 8, 2012
Steve Pearce has played for three different teams this season; four, if you count the fact that he was a Yankee for two separate stretches.He was a cast-off from the ...
September 6, 2012
"Rebuilding" is not a word that is typically used to describe the New York Yankees. In most years, or  more like most decades, they have a bevy of stars that ...
September 2, 2012
The New York Yankees have been winning uncharacteristically few games since the All-Star Break. Why might that be?The answer is because the "Yankees" aren't playing.Yesterday's game against Baltimore was a ...
May 19, 2012
"Aging" Andy Pettitte wasn't too old to pitch a brilliant eight-inning shutout game Friday night against a formidable Cincinnati Reds team. This gave him his first win in 2012, and ...
February 16, 2011
One of the telltale signs that your spouse or significant other may be planning to leave you is when that person loses weight. In the case of the New York ...
November 26, 2010
Would Derek Jeter be underpaid at $10 million a year for the next three years? Could he be worth as much as $20 million a year over that time span. ...
October 29, 2010
Yankee pitchers did not exactly distinguish themselves in the recent ALCS. But that may not be the main reason that they lost. To understand why, let's look at what happened ...
October 15, 2010
The New York Yankees need a fourth starter for the ALCS. But the one they named was wrong. It should not have been A.J. Burnett, but rather Ivan Nova. Nova, whom ...