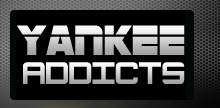 October 15, 2010 · Tom Au · Jump to comments
Article Source: Bleacher Report - New York Yankees
The New York Yankees need a fourth starter for the ALCS. But the one they named was wrong. It should not have been A.J. Burnett, but rather Ivan Nova.
Nova, whom the Yankees refused to trade, was a major reason that they didn't get Cliff Lee from the Mariners midseason. He has since justified their retaining him. Except for one very bad start that skewed his respectable 4.50 ERA upward, he has been quite a serviceable pitcher both as a starter and a reliever. And he's only 23, in his first season.
There is a very good reason that Nova was the "not Lee." Cliff Lee is a very good pitcher in the present. But Nova could be the pitcher for the future. That's why he was rightly put in the "untouchable" category earlier reserved for the likes of Phil Hughes and Joba Chamberlain.
The homegrown core of the Yankees rotation is still Andy Pettitte (for now), Phil Hughes and now Ivan Nova. Of the three "hired hands," CC Sabathia, A.J. Burnett and Javier Vazquez, only Sabathia has more or less worked out. Two-fifths of the earlier rotation was a question mark, and it came from the experienced pitchers.
Some years ago, the future Yankees rotation was something like Chien Ming Wang, Phil Hughes, Joba Chamberlain and Ian Kennedy, among others. Of these, only Hughes has become the present, with Wang having collapsed, Kennedy having been traded and Chamberlain been sent to the bullpen.
Besides Kennedy (who pitched well for the Arizona Diamondbacks this year), the Yankees also traded away Ross Ohlendorf (along with Jose Tabata, Jeff Karstens and Dan McCutchen), for a two-month "rental" in Xavier Nady plus reliever Damaso Marte. Ohlendorf could have been a full-time starter, and Tabata a fielder by now (although the other two represented no loss, being players more typical of Pirates than Yankees).
Worse yet, the Bombers traded a promising prospect, Arodys Vizcaino (plus the declining Melky Cabrera) for Vazquez, after a late season surge put him into the Cy Young conversation. He pitched nowhere that well this year, albeit in the American, not National, League.
The core of the Yankees for the past 15 years has been Jorge Posada behind the plate, Derek Jeter at shortstop and Mariano Rivera as a closer. More recently, they were joined by Robinson Cano at second and (until he was traded), Melky Cabrera in center field. At one time, the "backbone" of the Yankees team was "up the middle," with the corner positions being filled by hired hands.
Some would say that in the postseason, you need your most experienced hands. The flip side of that is that you need to give experience to get experienced players.
And it was T Boone Pickens, the American oil man that defined a veteran as an 18-year-old rookie who has survived a month of campaigning. That said, there is no better month for Nova to become a veteran.
A medieval philosopher once opined that if you must lose a battle, it was better to lose with an army of "native sons" than with an army of mercenaries. The reason was that your (surviving) native sons would fight for you another day, with greater experience, while the mercenaries wouldn't.
With the ability to buy almost any player, the Yankees have unfortunately overvalued veteran players from other teams and undervalued homegrown players. After having done so too often in the recent past, refusing to trade Nova for Lee was a good first step in reversing course. They should have followed up by putting Nova in the postseason rotation where Lee would otherwise have been.
Read more New York Yankees news on BleacherReport.com