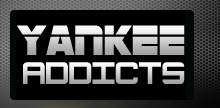 January 2, 2013 · Zachary D. Rymer · Jump to comments
Article Source: Bleacher Report - New York Yankees
The New York Yankees aren't the disaster fans are making them out to be, but they're certainly not as good as they usually are. This offseason has seen them take up a residence somewhere between "pretty good" and "meh."
Everyone has a solution, including Jim Bowden of ESPN and SiriusXM. He wrote in an ESPN.com Insider piece that the Yankees should "offer ridiculous one-year 'pillow' deals" to Michael Bourn and Kyle Lohse, both of whom are Scott Boras clients.
One-year deals, of course, wouldn't get in the way of the Yankees lowering payroll below $189 million in 2014. So there's that, and maybe Bourn and Lohse would indeed be willing to come aboard if the money was right.
Spoiler alert: They wouldn't be.
Another spoiler alert: The Yankees aren't delusional enough to actually try this.
Let's start with the problems surrounding the notion of a one-year deal for Lohse. It would be a decent enough idea on the surface seeing as how the veteran right-hander is the best starting pitcher left on the market and the Yankees could use some rotation depth, but it's not a practical one.
The key concern about Lohse as far as the Yankees should be concerned is how he would handle the transition from the NL Central to the AL East. It's a place where contact pitchers have to be on their guard, especially those who don't feature overpowering stuff.
That's Lohse in a nutshell. He gets by mainly with location and changing speeds, with a very limited capacity to miss bats in a pinch. That makes his margin for error small, which could get him in a lot of trouble in the AL East.
Plus, there's the bigger question mark of how good Lohse really is. He was a below-average pitcher before he found himself in St. Louis in 2008, posting a 4.82 ERA and an ERA+ of 95 in his first 218 big league appearances. His success with the Cardinals these last five years could be due to coaching and a comfort level that he won't find anywhere else.
Thus, the Yankees would be rolling the dice on Lohse if they were to sign him to a one-year contract, especially seeing as how their offer would indeed have to be "ridiculous" in order to get Boras to flinch. To throw a ballpark figure out there, $15 million would probably have to be the starting point.
Even if the Yankees were to make an offer like that to Lohse, Boras would be a fool to let him take it. He would know what perils could be awaiting Lohse in the AL East, and that such perils could get in the way of his client getting a lucrative multi-year deal in free agency the following winter.
Lohse is having a hard enough time securing a multi-year deal, and he's coming off a season that saw him go 16-3 with a 2.86 ERA. If teams aren't willing to commit multiple years and millions of dollars to him now while he's 34 and his value is high, things wouldn't be any better for him as a 35-year-old coming off a poor year.
If Boras has any brains—and he does—he'll stay patient with Lohse and wait for somebody to come calling with a multi-year deal. They may be waiting a while, but it will happen.
As for Bourn, there's slightly more sense to the notion of the Yankees signing him to a one-year deal, as he would be a defensive upgrade and a good fit for them at the top of their lineup.
But the key word here is "slightly." Signing Bourn to a one-year deal would create problems for the Yankees that would have no easy solutions.
For one, the Yankees would find themselves with an outfield even more crowded with lefty sticks than the one they already have. Moving Curtis Granderson to left field and Brett Gardner to the bench wouldn't solve that issue, so one of them would likely be traded.
If the Yankees were to trade Granderson, they'd find themselves with an insanely good defensive outfield with Gardner in left and Bourn in center. The issue is that their lineup would be blessed with a ton of speed, but would feature a serious shortage of power.
They'd have a better speed-power balance if they were to trade Gardner and move Granderson to left field, but they'd have a pretty major problem on their hands at the end of the 2013 season. Both Granderson and Bourn would be hitting the free-agent market, and the Yankees would probably only be able to pick one.
Then there's what Boras and his speedy client would make of the Yankees' one-year offer. It's really hard to imagine Boras allowing Bourn to accept the offer given his track record of finding big deals for his clients in January after months of waiting. The last three years have seen him find deals for Matt Holliday, Adrian Beltre and Prince Fielder in January. He'll find one for Bourn too.
He will simply because he's Boras, but also because accepting a one-year deal and allowing Bourn to reenter the market next year wouldn't be the wisest strategy. He'd be looking for a job alongside Granderson and Jacoby Ellsbury, both of whom could draw more interest because of their power.
So, like with Lohse, Boras' best bet with Bourn is to stay patient. One-year deals should only be considered if the start of the season is getting too close for comfort.
Even if the one-year offers do come, it's unlikely that they'd be coming from the Yankees, for all the reasons we've discussed and because of another big one that we haven't discussed yet.
Because both Lohse and Bourn rejected qualifying offers earlier this offseason, any team that signs them will be forced to give up a draft pick. If the Yankees were to sign both of them, they'd have to surrender two draft picks.
The Yankees have so far avoided free agents who come tied to draft pick compensation, and understandably so. With Andy Pettitte, Mariano Rivera and Derek Jeter nearing the ends of their careers and Alex Rodriguez's body falling apart, the Yankees need to be mindful of their future. And for their future to be as bright as possible, they need to keep their draft picks.
If the Yankees do decide that they can part with a draft pick or two by pursuing one or more of the marquee free agents on the market, they'll have more than mere one-year deals in mind. If they're going to give up draft picks, it will be for more lengthy partnerships.
The only way one-year deals for Bourn and Lohse could be justified is with a World Series victory in 2013, which would serve as a proper swan song for Pettitte and Rivera and a free agency springboard for Bourn and Lohse. Such is what Bowden suggested, anyway, and he's not wrong.
But if you were to ask the Yankees point-blank about their chances right now, they'd probably tell you that they think they're already good enough to win it all in 2013. Their roster may be old, but it's not as devoid of talent as the peanut gallery thinks.
Ask the Yankees in confidence what they really think, and they'd probably admit that they may not be good enough. But they'd probably also insist, however, that they've handled this offseason as well as they could have while maintaining their plans for the future.
If there is an answer for what ails the Yankees, it doesn't involve one-year deals for Bourn and Lohse. Both the Yankees and Boras have to be more realistic than that.
Note: Stats courtesy of Baseball-Reference.com unless otherwise noted.
If you want to talk baseball, hit me up on Twitter.
Read more New York Yankees news on BleacherReport.com