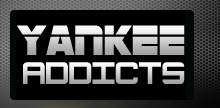 June 24, 2009 · Harold Friend · Jump to comments
Article Source: Bleacher Report - New York Yankees
The New York Yankees traded Kenny Rogers to the Oakland A's in Nov. 1997, in exchange for Scott Brosius. It was one of the great trades the Yankees ever made.
After having seen Rogers pitch for them for two seasons, the Yankees had seen enough. By terminating their relationship with Kenny, the Yankees acknowledged that they had made a mistake.
With the Yankees, Kenny Rogers was 18-15 with a 5.11 ERA.
New York Pressure
"I have nothing against Kenny Rogers," George Steinbrenner told reporters, "but we just felt it was in our best interest and his to get him into a situation where he can be comfortable and start over. He can do that in Oakland. There's no New York pressure."
General manager Bob Watson expressed the belief that Rogers' failures were due to his inability to take command, crumbling when runners reached base, and a lack of confidence.
It was generally known that Rogers annoyed manager Joe Torre.
Deprecating Statistics
Kenny Rogers won 219 games, but he never won 20 games in a season.
His high was 18 in 2004, and he won as many as 15 games only five times over a 20-year career. He averaged only 12 wins a year.
Considering that Rogers pitched most of his career in an offensive era, his 4.27 ERA is not terrible, but it certainly does not rank among the best.
He had ERAs above five in four seasons, and in one of those, it was above six.
His 108 ERA+ is only slightly better than average, while his 1.403 WHIP leaves much to be desired. Rogers allowed more than a hit an inning.
Playoff and World Series Failures
Kenny Rogers had extremely good fortune in the playoffs and World Series with the Yankees, but it ended when he pitched for New York's other team against the Braves.
With the Yankees in 1996
In 1996, Rogers started the fourth game of the Divisional Series against Texas. He lasted two innings, giving up five hits, one walk, and two runs.
In the next round against the Orioles, he allowed five hits, two walks, and four runs in two innings.
Finally, in the World Series against the Braves, he again lasted only two innings, yielded five runs, five hits, and two walks.
Incredibly, the Yankees won all those games, which allowed Rogers to escape without being charged with a single loss.
With the Mets in 1999
Three years later, the Mets were attempting to become the first team to lose the first three games of the second playoff round and come back to win.
In Game Six, the Mets battled back from a 5-0 deficit, lost one run leads twice, and were tied in going to the bottom of the eleventh inning when Rogers came into the game.
Old friend Gerald Williams led off with a double.
Bret Boone sacrificed him to third.
Kenny intentionally walked Chipper Jones, he intentionally walked Brian Jordan, and he unintentionally walked Andruw Jones to end the pennant race.
Average at Best
Kenny Rogers won more than 200 games because he pitched for 20 years.
He was an average pitcher at best, and had as many poor seasons as good ones.
Baseball-Reference compares a player's career achievements to those of Hall of Famers.
The following was taken from Baseball-Reference's Kenny Rogers page:
Black Ink Pitching: 2 (727), Average HOFer ≈ 40
Gray Ink Pitching: 87 (268), Average HOFer ≈ 185
Hall of Fame Monitor Pitching: 66 (175), Likely HOFer ≈ 100
Hall of Fame Standards Pitching: 29 (154), Average HOFer ≈ 50
Kenny Rogers was a pitcher who often put his team in difficult situations when it counted the most. It is an insult to Tommy John, Jim Kaat, and Bert Blyleven to even consider that Rogers might be worthy of Hall of Fame consideration.
References:
By JACK CURRY. (1997, November 8). Yankees Take $5 Million Hit to Deal Rogers :Yanks Send Rogers to A's And Take a $5 Million Hit. New York Times (1857-Current file),C1. Retrieved June 24, 2009, from ProQuest Historical Newspapers The New York Times (1851 – 2005) database. (Document ID: 117522302).
Kenny Rogers at Baseball-Reference