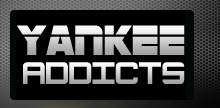 News published by
July 20, 2012
Mickey Mantle had a great season in 1960. He won the American League with 40 home runs. He also scored the most runs with 119 and led the league with ...
July 19, 2012
I watched Mickey Mantle's complete career. After having a fairly poor season in his rookie season of 1951, Mantle had some very good seasons. Then it happened.It 1956, Mantle reached ...
July 17, 2012
I have always rooted for Mickey Mantle. To me, he was better than Willie Mays, but for many different reasons, Mays finished ahead Mantle in home runs, runs batted in ...
July 16, 2012
It was the first season that both the American League and the National League would play the entire season with three divisions. In 1994, the season ended after Aug. 12  ...
June 13, 2012
June 12, 2012 ranks among the saddest of all days in baseball history.Lou Gehrig will be linked with Alex Rodriguez until Rodriguez hits his 24th grand slam home run. Then ...
June 12, 2012
It was incredible when it occurred, but it might be impossible to convince some younger fans that it's the truth:In 1932, New York Yankees third baseman Joe Sewell batted 576 ...
June 11, 2012
I just read an article about Mark McGwire in Time Magazine, "Mark McGwire: A Mac For All Seasons," written in Dec. 1998. Next, I looked up McGwire's statements in which ...
June 8, 2012
Ken Griffey Jr. had just hit a home run in the top of the 12th inning off John Wettland to give the Seattle Mariners a 5-4 lead. When Edgar Martinez ...
June 2, 2012
Lou Gehrig passed away 71 years ago today, June 2, 1941. A study released on Aug. 17, 2010 created speculation about the cause of Gehrig's death. 12 athletes that suffered ...
May 31, 2012
Joel Sherman in today's New York Post speculates about Melky Cabrera, who will be a free agent at the end of the season. Cabrera leads the National League in batting ...