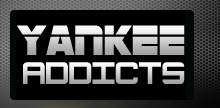 April 16, 2010 · Joseph DelGrippo · Jump to comments
Article Source: Bleacher Report - New York Yankees
I wanted to give my opinion on Joe Girardi wanting to pull CC Sabathia before the ninth inning of last Saturday's game at Tampa Bay.
Sabathia was cruising along with a no-hitter into the 8th inning, when with two outs Kelly Shoppach, a former teammate of CC's at Cleveland, singled to left.
Even before the ball landed, Girardi was out of the dugout to remove Sabathia.
No big deal with the Yankees were comfortably ahead 10-0, and CC was already at 111 pitches. Somewhere Nolan Ryan is laughing *.
*This game rivals the 1963 gem between Warren Spahn and Juan Marichal as the most unbelievably pitched game ever. Ryan threw 13 innings, walked 10 batters while striking out 19!
If you give him 4 pitches per batter for the 58 batters he faced, that is a minimum of 232 pitches! To put it in perspective, CC has only faced 49 batters combined in his first two games this season.
And no way Ryan walked all ten batters on only four pitches, and not many people went down early against Nolan either. Very likely Nolan Ryan threw 250 pitches in this game, but didn't get the win! But he did make his next start on three days rest.
Barry Raziano go the win, the only win of his career.
Luis Tiant got the loss, throwing 14.1 innings. He made his next start, too, a ten-inning three-hitter.
But then Girardi said he would have taken out Sabathia after eight innings anyway, even with the no-hitter intact, because his pitch count was too high at 111 pitches.
He was serious, I do believe him, but it would have been a stupid decision. And it is stupid decisons like that by General Joe that could cause problems with his ace down the road. If Girardi continues to play Mary baseball with Sabathia, it could pose an issue with Sabathia when his opt clause in his current contract becomes eligible after the 2011 season.
No-hitters are part skill, and many parts luck. Some of the greatest pitchers in history have never thrown a no-hitter and even franchises have never thrown a no-hitter .
Sabathia has a World Series ring and a Cy Young Award, but never a no-hitter.
And please don't give me that October baseball is more important than a no-hitter in April garbage.
Sabathia had thrown 4,143 pitches in 2009, including the four post-season starts. He also threw every game down the stretch for Milwaukee in 2008 on three days rest.
And if Shoppach's final swing produced the 24th out of the game for CC, and the no-hitter was intact, it had given Sabathia 29,990 total regular season pitches.
You're telling me that another 15 pitches would cause problems with a guy who has been a dominant starting pitcher for 10 seasons?
Or that 15 or even 20 more pitches would have caused issues come October if Sabathia was pitching in another post-season?
Let's please be reasonable here.
Girardi said that they have pitch counts on all their guys, "Because it is early in the season."
But Girardi let CC throw 122 pitches in his third start last season, also known as the Yankees home opener in the new Yankee Stadium.
So one start later in the prior season and it is OK to throw over 120 pitches, but for a chance at a no-hitter is not OK?
There is no consistency. And if you were worried that CC might have ill effects in his next start this season after throwing 120 pitches, CC threw over 120 on three occasions last year.
The first time (in start No. 3), CC was hit hard; the other two times, CC recorded wins, with one being a ten-strikeout gem against Seattle.
CC Sabathia has shown the ability to pitch effectively on three days rest, pitch effectively after throwing lots of pitches in a game and to pitch effectively after throwing 267 innings in a season.
I think he could handle 20 more pitches for a chance at a no-hitter.
Read more New York Yankees news on BleacherReport.com