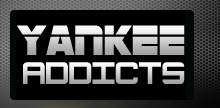 News published by
December 14, 2010
Well, it is finally official. Cliff Lee is signed sealed and delivered to the Philadelphia Phillies. Including all option years, Lee was offered a total of $148 million by the New York Yankees ...
December 12, 2010
Quite a few reports are saying that Cliff Lee has looked over the New York Yankees' seven-year, $161 million offer and the several offers made by the Texas Rangers. One ...
December 8, 2010
LAKE BUENA VISTA, Fla.—The new Cliff Lee rumors indicate that there are two teams that have made seven-year offers for the left-handed pitcher.The New York Yankees, Texas Rangers, Washington Nationals ...
December 3, 2010
Well, they are not really looking at Albert Pujols yet, as he is not a free agent until after this season. But the Yankees have said all along their priority is ...
November 29, 2010
In the 2009 MLB draft, the New York Yankees selected Slade Heathcott in the first round, 29th overall. It was not surprising to some as the Yankee were known to like ...
November 26, 2010
All the New York Yankees news the past week or so has been about Derek Jeter and his new deal. How much will Jeter "settle" for and will the Yankees ...
November 22, 2010
Let's preface this piece by saying the Rule 5 draft is the most overrated way to obtain talent for your organization. The reason why is most teams know their own ...
November 11, 2010
Author's Note: This is a long piece, so if you have time and are finished reading the extremely boring and repetitive thousand or so articles on BR about how Jeter ...
November 8, 2010
This past Saturday night, the Arizona Fall League (AFL) Rising Stars All-Star game was held at Surprise Stadium. Three New York Yankees prospects participated, including LF Brandon Laird, C Austin ...
November 6, 2010
Here at the Arizona Fall League Rising Stars Game and the East team is finishing up with batting practice. The game is being broadcast live in the MLB network (9:00 PM ...