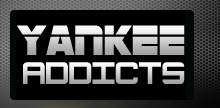 November 6, 2010 · Joseph DelGrippo · Jump to comments
Article Source: Bleacher Report - New York Yankees
Here at the Arizona Fall League Rising Stars Game and the East team is finishing up with batting practice.
The game is being broadcast live in the MLB network (9:00 PM EST start), so if you are staying in, have a look. If you are heading out, then record it and watch later. Many of these kids will be in the majors within two years, some as soon as 2011.
Last year, Buster Posey, Stephen Strasburg, Ike Davis (NYM), Mike Leake (CIN), Drew Storen (WAS)and Mike Minor (ATL) played in this event, and then made it to the majors leagues this past season.
Both teams look pretty stacked, but that is the way it is with all All-Star games.
The starting lineups include three New York Yankee players, the most of any organization.
Here are the lineups:
EAST DIVISION
1) Trayvon Robinson (LAD) CF;
2) Charlie Culberson (SF) 2B;
3) Brandon Belt (SF) 1B;
4) Brandon Laird (NYY) LF;
5) Austin Romine (NYY) C;
6) Marc Krauss (ARI) RF;
7) A.J. Pollock (ARI) DH;
8) Ryan Adams (BAL) 3B;
9) Tyler Pastornicky (ATL) SS;
and Manuel Banuelos (NYY) is Pitching.
WEST DIVISION
1) Ben Revere (MIN) CF;
2) Caleb Gindl (MIL) LF;
3) Dustin Ackley (SEA) 2B;
4) Eric Hosmer (KC) 1B;
5) Ryan Lavarnway (BOS) C;
6) Leslie Anderson (TB) RF;
7) Eric Thames (TOR) DH;
8) Zach Cox (STL) 3B;
9) Jose Iglesias (BOS) SS and
and Mike Montgomery (KC) is Pitching.
I could have updates throughout the night, but will not do an in-game blog.
However, there will be a complete piece on the game by Monday morning.
It is a virtual Who's Who here at Surprise Stadium, spring training home of the Texas Rangers and Kansas City Royals. Tons of Player Development execs and a few General Managers.
Players so far, I have seen which have impressed include 1B Brandon Belt of the San Francisco Giants, who could move into the starting first base job by 2012, and Dustin Ackley, who is a line-drive machine with good patience at the plate.
Jeremy Jeffress of the Milwaukee Brewers hit 101 on the radar gun here the other day. He is pitching for the West Squad. I saw Jeffress in July down in the Florida State League, and he could barely find the strike zone but has improved his command during the end of the 2010 season and here.
A local product from New Jersey, Brad Brach (SD), is here as well, pitching for the West Squad. A graduate of Freehold HS and Monmouth University, Brach has great size (6'6″ 210lbs) with good arm action and a really nice breaking pitch, which he can throw for strikes or bury it low. He had 41 saves this past season in the High A California League, a notorious hitters haven.
And he leads the AFL this season in WHIP and is second in Batting Average Allowed.
So enjoy the game, and if you cannot watch it live, record it and enjoy later.
UPDATES:
Brandon Laird (NYY) has an RBI FC and Austin Romine (NYY) has a two-out RBI single in the third. The pitch to Romine was a fastball over outer half, and he knocked it up the middle.
However, this appears the only type of fastball that Romine can handle.
He was jammed his first time up, hitting a weak humpback liner to short. Also allowed another passed ball to allow and unearned run in third inning. It was his second PB in two days and at least his fifth this AFL.
Manny Banuelos (NYY) had two impressive innings to start the game.
He hit 95 several times and was able to work it in to left-handed hitters with ease. Struck out Dustin Ackley (SEA) looking at a 95 MPH heater to end the first inning.
Banuelos then chucked back-to-back change ups to Jose Iglesias (BOS) to strike him out to end the second. These 83 MPH change ups had significant downward tailing action. He was anywhere from 79 to 83 on the change up.
Jeffress was his usual self, all over the place with lack of fastball command, but an easy delivery with the ball exploding out of his hand. He hit 100, then 101 in the same at bat to Laird, who struck out without taking the bat off his shoulder.
Jeffress received a loud ovation in both instances, and a few ooh's and aah's from the scouting crowd.
Then Chris Carpenter (CHI CUBS) also hit 100, and the triple digit room got more crowded.
Read more New York Yankees news on BleacherReport.com