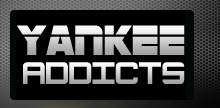 November 11, 2010 · Joseph DelGrippo · Jump to comments
Article Source: Bleacher Report - New York Yankees
Author's Note: This is a long piece, so if you have time and are finished reading the extremely boring and repetitive thousand or so articles on BR about how Jeter did not deserve the Gold Glove Award, then feel free to read this piece.
Since the New York Yankee season ended in Texas, there have numerous articles about what the New York Yankees should do with their iconic shortstop Derek Jeter.
The Yankees are in a tough situation. Who do they upset? Jeter or the many fans who hate him and the Yankees? If they offer Jeter an underwhelming contract, they risk his disappointment, but if they give him too much money and too many years, the media will overwhelmingly cry foul.
They will say the Yankees have too many resources, they can buy their players and titles and they can afford to pay an aging, and clearly declining (their words, not mine) shortstop.
I say sign him to a 10-year deal for $200 million, but I already wrote that piece back in February 2010. Read it to gain a little tidbit of the MLB Collective Bargaining Agreement.
Those people who have written negative Jeter articles clearly hate the Yankees and what they have always been, a team which plays in the world's biggest market. A market which has always attracted the biggest names in the sport.
The Yankees are a team which is one way or another. Either you love them or hate them; there is usually no in between. In fact, my favorite teams are all that: the Yankees, the Dallas Cowboys, Notre Dame football and Duke Hoops.
Not a good year for two of the four.
Almost all Yankees haters really hate Jeter, especially the fantasy baseball sabermetric crowd who hate the fact that Jeter was just voted his 5th Gold Glove Award*. Those who really are unhappy about this award for the Captain have never had a glove on their hands in their life.
*Who really cares about Jeter winning the Gold Glove Award? Is your life any different because Jeter won that award? Would your life be any different if he didn't win the award?
Those who are hateful towards Jeter are envious of the life he leads.
It is only natural as most people who have nothing are usually jealous of successful people. You know who you are.
And Jeter is successful. He has helped the Yankees win FIVE World Series championships, is a career .314 hitter (not that it matters to the saber crowd), and who has made numerous key plays which have won big postseason games.
They didn't start calling him Mr. November for nothing. By the way, I was at that game.
Jeter also has a great life off the field, avoids controversy, is from a great family, and does not get into any legal problems, plus he dates the sexiest woman in the world.
Yeah, he's a real easy guy to hate. As I said earlier, it is more jealousy that people rip him because they don't have his fame, his money or his future wife.
So when people are writing that the Yankee shortstop should only receive a two-to-three year contract because he is on the downside, I say why is he on the downside?
Is it because his slash line was .270 BA/.340 OBP/.370 SLG/.710 OPS last year, for his lowest single-season average in his brilliant 15 year Hall-of-Fame career?
True, it is his worst season for batting average (BA), on base percentage (OBP) and slugging (SLG), but how bad was it really?
Jeter had 179 hits last season in 663 at bats for that .270 average, which was 47 points below his .317 career average coming into the season. However, Jeter averaged 200 hits per full season prior to 2010, including 212 in 2009.
Therefore, Jeter had 21 hits below his average over his last ten full seasons. Let us say now that Jeter really got those hits. Adding 21 more singles to Jeter's 2010 season (less than one hit per week) is reasonable.
If you add the 21 hits to his 2010 resume (all singles), then he hits .302 (200 hits in 663 AB) for the season. And what those hits also do is raise his OBP and SLG marks for the year.
His OBP in 2010 was only .340, below his career average of .385. But it was a full 70 points over his BA in 2010, consistent with his career difference of 71 points. And his great season in 2009 produced a 72 point difference*.
That is really consistent. And isn't OBP supposed to be the great number to look at in a hitters productivity?
*I have always had a benchmark of plus 70 points for an OBP to be above BA to be a really productive offensive player. OBP is important, but not to the cause where it affects a players desire to get hits and drive in runs when men are in scoring position.
A plus 70 (or better) number indicates that Jeter does walk enough to help his team, but also is aggressive to the baseball that he will work to get his hits, which are better for a team. Jeter walked 63 times this past season, almost the same as in his great 2009 season.
Adding those 21 hits would give Jeter an OBP of .370 for the 2010 season. His SLG also improves to .401, giving Jeter an OPS of .771 with those 21 additional singles added.
As I said earlier, Jeter's actual OBP was 70 points higher than his BA, meaning his takes his walks, but did not get the same amount of hits as he averaged over the last 10 seasons.
Those missing hits, 21 in total, averaged less than one hit per the 26 weeks of the season. How important would those 21 hits have been? What situations would they have occurred?
If half came with men in scoring position, then Jeter likely would have 10 more RBI. But what if all 21 extra singles came in two-out, nobody on situations with the Yankees winning or losing by five or more runs late in a game?
Not really productive but to basically build Jeter's own personal numbers. So an extra 21 semi line drive singles to right field would then give Jeter a new slash line of .302/.370/.401/.771 for 2010.
That is pretty good, but does not compare to what Jeter has put up for his career. And that is what most people are basing their "Jeter is done" pieces. Comparing Jeter against his past great seasons, especially 2009.
Jeter had more runs (111 vs 105), doubles (30 vs 27), triples (3 vs 1) and RBI (67 vs 66) last year than he did in 2009. And almost the same amount of the exalted walks (63 vs 72).
But he had less singles and fewer home runs (10 vs 18).
However, do we look to Jeter for home runs? No, but he has averaged 15 HRs over his 15 full seasons, meaning Jeter hit five fewer HRs in 2010 than he has averaged over his 15 year career.
Now we are talking 21 fewer singles to get to .300, and five fewer HRs, which we don't look for from Jeter.
With his other numbers pretty much the same as 2009, then we can say that all those extra hits he had in 2009 were basically unproductive except to build his BA and SLG percentage.
In reality, we should stop comparing Jeter's 2010 season to his past great years and worry about how good he is compared to the shortstops in the American League.
With that comparison, he is the best shortstop in the league, and it is not even a question.
Even with 21 less singles in 2010, Jeter had the second highest OBP for A.L. shortstops and was in the top few in SLG. And in case you didn't hear, Jeter did win the 2010 Gold Glove*.
–Start-
*I am simply amazed how all these articles come out that Jeter's negative UZR shows he is the worst defensive shortstop in the game. UZR is perhaps the worst statistic ever created. It represents how many outs a player records on balls hit into his area.
Lets say the scouting reports on Torii Hunter over the last two weeks indicate that he is pulling the outside, off speed pitches and hitting those pitches in the shortstop 5.5 hole. Jeter is told to position himself closer to the hole. But Hunter, who realizes exactly what the scouts see, has been working feverishly over a time period on hitting the off speed pitch the other way and up the middle.
So in a big three-game series, Jeter is positioning himself one way and Hunter has been working to hit the ball up the middle. The Yankee pitchers (and defense) set up Hunter in each at bat to get himself out by throwing off speed stuff on the outer edge.
But Hunter's hard work pays off a couple times and he smacks several ground balls to the left of second base, but "past a diving Jeter" who was positioned away from where the ball was hit.
Jeter's UZR takes a big nosedive because those balls hit into his "area" were not turned into outs. But a combination of Ozzie Smith and Marty Marion would not of gotten to those balls.
For those of you kids who only spout off about UZR when talking defense, learn how the game is played before you start spewing your sabermetric gunk. Go read George Will's book "Men At Work," specifically the section on Cal Ripken, Jr. and defense.
Or maybe Jeter has to play more in the shortstop hole to compensate for a clearly defense-declining Alex Rodriguez, who as I have pointed out on many occasions, can not go to his left anymore to field a ground balls.
–end-
I wouldn't take any other A.L. shortstop for next season over Derek Jeter.
What about Elvis Andrus, that young phenom of the A.L. Champion Texas Rangers? He had a slash line of .265/.342/.301/.643 during the 2010 regular season. A .301 SLG? Yikes, that was almost 70 points below Jeter's worst SLG mark of his career.
Well, Andrus did have that "great" 2010 postseason, right?
If you consider going 20 for 68 at the plate (.294/.338/.338/.676 OPS) with eight runs (thank you Josh Hamilton), three doubles, and eight stolen bases great. Also, while he did steal those bases, Andrus also hit into three rally-killing double plays.
His OBP was worse in his "great" postseason than it was during his almost replacement level, mediocre regular season. And Andrus had 21, yes, 21 extras base hits (no HRs) all season, including October baseball.
So Jeter was the best A.L. shortstop in 2010, and will likely get better next season. As I said in a prior piece, Jeter will work with Kevin Long during this off season. And two days after I wrote that piece, Jeter in fact, did work with Long to improve himself during the season.
And what Long worked on with Jeter was pretty much what I saw and suggested Jeter do.
If I were a gambling man, and I used to be but not any more, I would bet that Jeter works extensively with Long this off season.
So while you are sitting on the couch eating chips, drinking beer, getting fat and watching football and basketball games this winter, Jeter will be working out harder than even he did two seasons ago to make his new contract worth every dollar.
And you will be even more jealous of him and the Yankees next season.
Again, as I said in the past, give Jeter a 10-year deal worth $200 million to end all future speculation. It will allow Jeter to decide when he will retire.
Jeter is not Bernie Williams, Tino Martinez, Jorge Posada or even Mariano Rivera. He should be granted much greater respect and to go out on his terms. By giving him that clear respect of a 10-year deal, and based upon the ethics he has shown over the course of his life, there is no way Jeter stays for the entire contract.
Unless he is still productive at shortstop.
Jeter's 2010 season is seen as a bad year based upon his lack of 21 unproductive singles he did not get. He will at least get those 21 extra singles next season so he doesn't have that "bad" season.
You can bet on it.
Read more New York Yankees news on BleacherReport.com