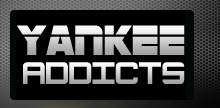 June 2, 2009 · Michael McMaster · Jump to comments
Article Source: Bleacher Report - New York Yankees
With springtime waning, baseball is quickly rounding the corner into the long summer months, and New York Yankees manager Joe Girardi is now faced with a difficult decision.
Chien Ming Wang, who struggled mightily in the Yankees' rotation early this season, has returned to the team and looked strong in the Yankees' bullpen.
The two-time 19 game winner had surrendered more than 20 earned runs in just three painfully short starts, but his stint on the disabled list seems to have remedied his problem.
But Wang's well deserved spot in the Yankees' rotation has been jeopardized by a pleasant, but perhaps problematic, surprise: The exceptional play of 23-year-old right hander Phil Hughes.
Hughes has pitched 34.2 innings over seven starts, posting a 3-2 record and a 5.22 ERA. His high ERA can be credited to two poor starts, but Hughes has looked extremely promising at times, and many believe that it would be inappropriate to send Hughes back to the minor leagues at this point in his career.
Hughes dominated in the minor leagues last year, posting a stellar 2.19 ERA, and many believe that another stretch in the minors would do little to develop him as a pitcher.
A desire to bring Wang back into the rotation left fans screaming for Girardi to put Joba Chamberlain back in the bullpen.
In 2007, Chamberlain pitched 24 innings for the Yankees, posting a minuscule 0.38 ERA and serving as a dominant set-up man for Mariano Rivera.
But despite his dominance out of the pen, Chamberlain has made it clear to the Yankees organization that he wants to be a starting pitcher. This year, in 10 starts, Chamberlain has posted a respectable 3.71 ERA, but his longevity has been called into question, as he has only stretched those 10 appearances into 53.1 innings.
Perhaps one reason that Yankees fans feel so strongly about the necessity of having Chamberlain in the bullpen is the prominent role that relief pitching played in the dynastic years between 1996-2000.
In 1998, the Yankees won 114 games, and their bullpen posted an impressive 3.218 ERA. In the playoffs, that bullpen was virtually unstoppable, surrendering only six runs in 30.2 innings. Ramiro Mendoza, Mike Stanton, Jeff Nelson, and Graeme Lloyd made the best bullpen in the major leagues.
In addition, Mariano Rivera made the ninth inning practically automatic for the Yankees. With a 1.060 ERA on the season, Rivera pitched 13.1 innings in the postseason, allowing only one run.
Yankees fans understand the importance of a strong bullpen, and with five competent starting pitchers rounding out the 2009 rotation and no heir apparent to Mariano Rivera looming in the bullpen, fans in the Bronx were becoming restless with Girardi's indecisiveness about putting the 24-year-old right hander back in the bullpen.
On Sunday, Chien Ming Wang gave the Yankees even more reason to ship Chamberlain back to the bullpen, posting three scoreless innings in a 5-4 loss to the Cleveland Indians.
With reason to believe that Wang had returned to his old form, the pressure was mounting on Girardi to make a decision.
Then last night, Chamberlain made a statement. In eight innings of work, Chamberlain allowed only two runs on four hits, while striking out five Indians. The young right hander was fighting for his spot in the rotation last night, and he turned out his best performance as a starting pitcher so far.
Joe Girardi has a problem that any manager in baseball would love to have. He has six capable starting pitchers and only five spots in the rotation. However, Girardi must understand that he has six starting pitchers, because Joba does not belong in the bullpen.
Chamberlain has shown Yankees fans that even at the young age of 24, he is capable of being a starting pitcher in the Bronx. And he is more valuable to the Yankees as a starter than he is as a reliever.
In 2007, Chamberlain pitched only 24 innings for the New York Yankees out of the bullpen in 19 games. In 2009, he has already pitched 53.1 innings in only 10 games. If the Yankees believe that Chamberlain has the stuff to get hitters out consistently (as he has this season with a 3.71 ERA), then they want him on the hill for more innings.
The principle is simple: The more innings an excellent pitcher pitches, the better chance he gives his team to win. That is why excellent starters are paid considerably more money than excellent relievers. They are more valuable to the team.
Also, Chamberlain is a starter. At no point in his career other than the summer months of 2007 has he ever been a reliever.
When Joba played in the minor leagues in 2007, he posted a 2.45 ERA as a starter. And in two seasons at the University of Nebraska-Kearney, Chamberlain had a 3.37 ERA and 232 strikeouts.
Chamberlain is an above average starting pitcher, and that will be more valuable to the Yankees in the long run than a bullpen guy.
Chamberlain will be a huge help to the Yankees down the stretch in August and September, as they will inevitably battle the Red Sox for a playoff spot.
Despite Joba's above average ability as a starting pitcher, some believe that he will be more valuable to the team as a setup man. However, it is important to note that Chamberlain has 24 career innings as a setup man; that is hardly a large enough sample size to judge him on.
Also, if Chamberlain could help the Yankees in a setup role, he could do that in the postseason. It is not uncommon for starting pitchers to make appearances out of the bullpen in a short series.
Roger Clemens, Randy Johnson, Curt Schilling, and Pedro Martinez have all made postseason appearances out of the bullpen themselves. If Burnett, Pettitte, and Sabbathia prove to be enough firepower for the Yankees' starting pitching, the Yankees could use Chamberlain in a setup role in the postseason, after they have gotten quality innings out of him as a starter.
Chamberlain may have struggled at times so far this season, but the Yankees must remember that their young star is only 24 years old, and over the long run, he will be more valuable to them as a dominant starting pitcher than as a setup man or closer.