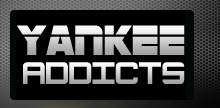 News published by
June 17, 2011
Normally, speculating about the MVP before Father's Day would be premature. This year is the exception. With 95 games still to go, it seems almost certain that the American League ...
June 8, 2011
Less than a year ago, Jorge Posada was the New York Yankees' four-time World Series champion catcher whose skills were so respected and whose leadership was so revered that he ...
June 2, 2009
With springtime waning, baseball is quickly rounding the corner into the long summer months, and New York Yankees manager Joe Girardi is now faced with a difficult decision. Chien Ming Wang, ...