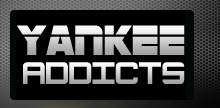 May 14, 2009 · Perry Arnold · Jump to comments
Article Source: Bleacher Report - New York Yankees
Can somebody please explain why the New York Yankees continuously have injury problems that are sending key players to the disabled list.
Currently the Yankees have seven key players on the disabled list.
They are: starting right fielder, Xavier Nady; relief pitcher, Brian Bruney; relief pitcher, Damaso Marte; catcher, Jorge Posada; catcher, Jose Molina; pitcher, Chien Ming-Wang; utility infielder, Cody Ransom.
Another player, Alex Rodriguez, just came off the DL last Friday.
And three other players are sitting right now with no certainty as to when the will return to the lineup.
They are shortstop, Derek Jeter; DH, Hideki Matsui and relief pitcher, Phil Coke.
For the past several years the Yankees seem to have an inordinate number of injuries that result in players on the DL.
One has to begin to wonder if there is something wrong with conditioning drills, pregame warm-ups, or training techniques.
Some have argued that it is because the Yankees are getting older.
Admittedly, Posada, Jeter and Matsui are not as young as they used to be. But Nady, Bruney, Marte, Molina, Ransom, Wang and Coke are not old.
Regardless these guys are supposed to be in shape. It is especially alarming when you see so many of these guys going down with hamstring and quadriceps injuries.
This writer has no idea what preseason conditioning or pregame warm-ups consist of for the Yankees. But it would appear as though whatever routines are in place have to be examined.
There is simply no reason that game after game players come up lame.
Just a few years ago, when the number of leg injuries was questioned, the strength and conditioning coaches on the Yankees were fired in midseason.
But the change in staff did not solve the problem. Last year a number of Yankees, including both A-Rod and Jeter, spent time on the DL with leg problems.
So much was expected of Chien Ming-Wang this year. He was sidelined with a freak lis franc injury while running the bases in an inter-league game in Houston last year.
When he was put on the DL after three disastrous starts this season, many questioned whether the team was using the disabled list as an excuse.
It has been said that his legs were just not in shape and that he had lost strength in his hip abductor muscle.
Someone needs to explain why an injury in June 2008 prevented Wang from being in shape by Apr. 6, 2009.
Is it not possible to condition in Taiwan in the off season? Was it not possible for the Yankee brain trust to put him in touch with a strength and conditioning guru in December and have him work on what needed to be done for him to come to camp ready to go?
You can't write all this off to age. Old players can be in shape too. Someone needs to take a serious look at the reasons for all these injuries and fix the problems quickly.