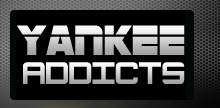 February 1, 2012 · Harold Friend · Jump to comments
Article Source: Bleacher Report - New York Yankees
When Whitey Ford's mother gave birth to him, the delivering physician must have wondered why the baby was so cool. Regardless of the situation, that describes Edward Charles Ford, the greatest pitcher in New York Yankees history.
Jerry Coleman, who was the Yankees second baseman when Ford joined the Yankees in 1950, summed up the rookie the first time he saw him pitch.
Coleman called Ford "the oldest young player I ever saw."
Casey Stengel was one of the greatest Yankees' managers. From 1949-60, his teams won seven world championships and 10 pennants.
Stengel always put winning first, which cost Whitey Ford.
In the 1950 World Series, Eddie Ford started Game 4 against the Philadelphia Phillies at Yankee Stadium on a humid, cloudy day. After eight innings, the Yankees led 5-0. Ford had allowed only five hits and stuck out seven.
After winning his first nine decisions before suffering his only loss during the season, the 21-year-old left-hander was now poised to get the last three outs that would give the Yankees their second consecutive world championship.
Willie "Puddin' Head" Jones led off the ninth inning with a single. Ford hit Del Ennis to put Phillies on first and second.
Unperturbed and maybe even a little cocky, Ford got Dick Sisler to ground Ennis into a force at second, Jerry Coleman to Phil Rizzuto. Jones moved to third.
As Mel Allen said in his broadcast, Ford then reached back for a little extra and struck out Granny Hamner. He needed one more out.
After checking Ken Johnson, who was running for Sisler at first, Ford delivered what everyone thought would be the last pitch of the game.
Everyone was wrong. The fly ball that Andy Semininck lifted to left field was misplayed by Gene Woodling. Jones scored from third, Johnson scored from first and the Phillies had a pair of unearned runs.
The young pitcher was not shaken and Stengel allowed Ford to face Mike Goliat, who singled, bringing the potential tying run to the plate.
Into the game came Allie Reynolds, who once had the reputation of being a pitcher that couldn't take pressure because he often didn't pitch complete games. In later years, Ford would be criticized for not finishing enough of his starts.
Reynolds made short shrift of Stan Lopata as he struck him out to end the Series.
It was later revealed that Ford was extremely upset at being taken out, but one would never know that from his demeanor after being told he was finished for the day.
After joining the Yankees in mid-season, Ford won nine games, lost one and was the winning pitcher in the game that completed the sweep of the Phillies in the 1950 World Series.
The future looked bright.
Read more New York Yankees news on BleacherReport.com