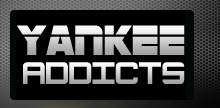 April 9, 2010 · Harold Friend · Jump to comments
Article Source: Bleacher Report - New York Yankees
In 1958, Whitey Ford led the American League with a 2.01 ERA, winning 14, losing seven, and pitching 219 and one-third innings.
Mickey Mantle batted .304 with an American League-leading 42 home runs.
Yankees general manager George Weiss wanted to cut Ford's salary by $8,000 and Mantle's by $5,000 for the 1959 season.
Whitey Ford Had to Be a "Good Boy."
When Ford and Mantle reported for spring training, the Yankees offered to eliminate Whitey's pay cut and give him the same $35,000 salary that he had received in 1957, but with a catch. The contract imposed certain conditions.
Ford had to promise the Yankees that he would be a "good boy." He had to obey all of the club's rules, not miss any trains or planes, and, as Casey Stengel phrased it, be able to tell midnight from noon.
Whitey Ford's Healthy Diet
Ford's immediate reaction was to refuse to sign the contract, but since he had only two choices—play for the Yankees or don't play—he decided to sign and go along with the conditions.
To sweeten the pot, his salary was increased to $37,000, and the Yankees explained that the conditions the club wanted to impose did not really involve his being a "good boy," but rather required that he observe specific dietary restrictions in order to control his high uric acid condition.
Ford would not be able to have fried foods, beef, pork, and above all, alcohol.
The Real Issue
Yankees general manager George Weiss made certain to emphasize that Ford's behavior was not the issue.
It was the fact that Whitey had missed too many starts the last two seasons due to arm problems that had been traced to his uric acid levels, which is a form of gout.
In 1958, Ford had started 29 games, completed 15, and worked almost 220 innings.
Mickey Too
Mickey Mantle, whose 1957 salary was $75,000, was offered a similar deal. He would make the same salary as last year, but he too had to be a "good boy."
On Feb. 28, 1959 it was announced that Mickey had signed a $78,000 contract with no behavior conditions.
In 1956, Mickey had won baseball's Triple Crown, leading the majors in batting average, home runs, and RBI. In 1957, an injury-plagued season, Mickey batted .365, hit 34 home runs, and batted in 94 runs. Mickey's 1958 had not been as good.
Mantle said that he had four goals for 1959.
He wanted to play the full schedule of 154 games without an injury, hit about 50 home runs, drive in 100 runs, and bat about .330.
Mantle said, "I realize that I had a poor season last year (1958), but I attribute that to the trouble I had in my right shoulder throughout the first half." (Red Schoendienst fell on Mickey's right shoulder in the World Series). That is unbelievable.
Mantle hit 42 home runs, had 97 RBI, and hit .304 with a .443 on-base average and a .592 slugging average—and he thought it was a bad year.
Mickey Mantle had an outstanding season in 1958. The fact that it wasn't as great as his previous two seasons only emphasizes how exceptional those seasons were.
If one measured Mickey's 1958 to players today, 1958 has become a "bad" season.
Since the turn of the century, a player has hit 73 home runs in a season, Ryan Howard hit 58 home runs, breaking Hack Wilson's old National League record of 56 that had stood until Mark McGwire came along, and Alex Rodriguez continues to hit about 40 home runs almost every season.
It makes one's mind boggle to think of what Mantle would have done under today's playing conditions.
References
Drebinger, John. "Ford of Yankees Invokes the Fifth; Despite Rise, Hurler Bars Pact in Fear of Recrimination." The New York Times. 20 February 1959, p.32.
Drebinger, John. "Ford Signs Yankees' Contract Containing Health Provisions; Pitcher Must Watch Diet During Season. The New York Times. 23 February 1959, p.30.
Read more New York Yankees news on BleacherReport.com