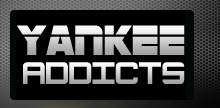 May 25, 2009 · Micheal Robinson · Jump to comments
Article Source: Bleacher Report - New York Yankees
On July 14, baseball's best players will head to the new Busch Stadium in St. Louis for the 80th annual MLB All-Star Game.
The question I impose: Which New York Yankees will make it?
Voting will end on July 2.
Catcher Jorge Posada has been injured most of the season, so he is pretty much out of the question. However, his hamstring strain in his right leg is getting better and could return in a few weeks.
Mark Teixeira could very well make the roster this year. He has really turned it around as of late.
"Big Teix" is only hitting .268, but that is night and day compared to what it was a month ago. He has 13 home runs and 34 RBI, which leads the Yankees in both of those categories. His glove helps as well, which he has flashed quite often over at first base.
Robinson Cano is hitting .313 with eight home runs and 25 RBI. While he is having a decent season, Rangers' Ian Kinsler should get the starting nod at second base. Cano could sneak into a reserve role, but that's up to how he plays until July and the fans' votes.
Derek Jeter is a nine time all-star and is looking to play in his third July classic in a row. He is only hitting .287, but is a big time fan favorite.
His power numbers have increased somewhat this year, having already hit seven homers this season. Jeter only hit 12 and 11 homers in his last two seasons and will break that easily this year. Throw in nine stolen bases, only being caught once if that helps his cause.
I like Jeter's chances, the competition is pretty light and Jeter is a fan favorite.
Alex Rodriguez. Alex, Alex, Alex… where do I begin? Unless you have lived under a boulder or you were in a deep comma, you know that Alex Rodriguez was injured and has recently admitted to PED use from 2001-2003.
A-Rod is a 12-time all-star and since 1996, he has only missed one year, in 1999.
Since returning on May 8, Rodriguez has hit seven home runs, the problem is, he only has 10 hits.
His competition consists of Brandon Inge, Chone Figgins, Mike Lowell, Michael Young, and Evan Longoria.
A-Rod is also one of 10 American League players who are candidates to be voted into the Home Run Derby.
However, the New York crowd seems to be standing behind him more then ever and he could get voted in. He has a lot of haters, but we have to remember, he has a lot of fans too, he has my vote.
Outfielder Johnny Damon has a nice shot of making it this year, he is hitting .307 with 10 home runs and 29 RBI. He is loving the new stadium, painting the short porch in right field, at this point, he pretty much owns the second deck.
Melky Cabrera is probably getting some write-ins after his clutch hitting and all of his walk-offs this season. Melky leads the Yankees with a .328 batting average. He also has five homers and 20 RBI. I penciled him in as one of my write-ins, it was an easy choice for me. Got Melk?
So, who do you think will make it? Who has your vote?