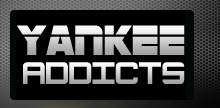 News published by
October 24, 2012
New York Yankees manager Joe Girardi declared Alex Rodriguez his starting third basemen for the 2013 season without any competition to worry about."I expect Alex to be our every-day third ...
October 15, 2012
Following Sunday's ALCS Game 2 loss to the Detroit Tigers, the 2012 New York Yankees' postseason has been nearly a complete disaster.The Yankees are now trailing 2-0 in the series ...
October 13, 2012
If there is a game-changing moment in the Bronx during the ALCS, expect nothing less than to have Alex Rodriguez in the middle of it.  Good or bad.Much like Marvel ...
October 12, 2012
The 2012 New York Yankees have to put all previous games and performances behind them and focus on Friday night and Friday night only.Think of it as a brand new ...
April 8, 2011
"Baseball is 162 grueling games played in more than a dozen cities; now on the field, we conserve our energy, on the road we conserve our food." -Pitching Coach Brickma ...
October 19, 2010
"You forget about it whether it was 15-2 or 3-2. It's still a loss. It doesn't matter what the score was if we win tomorrow." - Derek Jeter The Yankees, down ...
October 16, 2010
CC Sabathia was chased by the Texas Rangers after pitching only four innings, his shortest outing of the year. Sabathia scattered five earned runs over those four innings, the big blow ...
October 15, 2010
The 1994 film Shawshank Redemption claims that "fear can hold you prisoner, hope can set you free." The 16 year career of Alex Rodriguez has seen its shares of ups and ...
October 6, 2010
World Champions, the New York Yankees begin their quest for back-to-back titles as they take their show on the road to play the Twins in Minnesota in the opening round of ...
September 17, 2010
The Yankees have struggled as of late on the road.All of that changed on Friday night with one swing of the black Louisville Slugger with a number thirteen on the ...