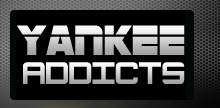 October 16, 2010 · Micheal Robinson · Jump to comments
Article Source: Bleacher Report - New York Yankees
CC Sabathia was chased by the Texas Rangers after pitching only four innings, his shortest outing of the year.
Sabathia scattered five earned runs over those four innings, the big blow being the Josh Hamilton three-run shot in the first inning.
If you take that away, the Yankees would've still been in the game when Sabathia exited.
One of the biggest problems for Sabathia this postseason is the walks. He has accumulated three against the Twins in the ALDS and four against the Rangers last night.
However, despite Sabathia's performance, the Yankees were able to salvage Game 1 and beat the Rangers, 6-5 to take the 1-0 series lead.
First and foremost, the Yankees bullpen was as solid as ever.
Joba Chamberlain, Dustin Moseley and Kerry Wood combined for four scoreless innings to get the ball to Mariano Rivera in the ninth to close it out.
Moseley, the Yankees' long reliever in the ALCS, pitched two strong innings, striking out four with no walks.
Brett Gardner was the offensive hero for the Yankees, sparking the eighth inning rally to chase the starter C.J. Wilson. Gardner hit a soft, routine ground ball to first baseman Mitch Moreland. That opened the door for the speedy Gardner to beat Wilson down the line, sliding safe into first.
"All starts with a hustle play," manager Joe Girardi said.
This ignited a five-run inning that followed Robinson Cano's solo home run in the seventh. Once a meaningless hit with his team down 5-0, Cano's homer became the difference.
After Derek Jeter doubled in Gardner, Nick Swisher and Mark Teixeira both walked to load the bases for Alex Rodriguez, who promptly lined the first pitch to left off Rangers reliever Darren O'Day.
The ball just missed the glove of Rangers third baseman Michael Young and scooted into left field, scoring Jeter and Swisher.
Cano followed with a single that scored Teixeira, and Marcus Thames knocked in the go-ahead run with a single, scoring Rodriguez.
All of this was done without recording a single out.
The Yankees have won 10 straight playoff games against the Texas Rangers, the second-longest streak against a team during the playoffs in MLB history.
The Rangers still have never won a playoff game at home.
Today, the Yankees will try and take a commanding 2-0 series lead, while the Rangers hope to salvage a split before heading to Yankee Stadium. Phil Hughes will take the ball for the Yankees, and Colby Lewis counters for Texas.
Read more New York Yankees news on BleacherReport.com