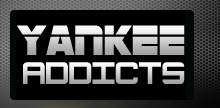 June 1, 2009 · Jack Doran · Jump to comments
Article Source: Bleacher Report - New York Yankees
Is he a starter or a reliever? This question about Yankee Joba Chamberlain seems to dominate all Yankee conversations.
After a superlative outing Monday night in Cleveland, Chamberlain may have taken a step in keeping his spot in the Yankee rotation. A career high eight innings pitched allowing four hits, two runs, two bases on balls, and five strikeouts.
That pitching line may not seem dominant, but anyone who watched this performance knows otherwise. After retiring the first 11 batters before giving up a solo home run to Victor Martinez, Chamberlain's "stuff" was electric. A fastball consistently hitting 96 mph in desired locations, breaking balls falling off the table, change ups at the right time in the right spot.
Granted, this is only one start. Chamberlain's pitching has been inconsistent and his fastball is sometimes late in getting to the ballpark. The command of his other three pitches is still a work in progress.
If Monday's performance is one Chamberlain can grow from, then maybe the Yankees can sit back and enjoy this work in progress…maybe progress into the invaluable "ace" that is so hard to find, and so expensive to secure.
Baseball is a funny game in many ways. One way is that it is always evolving, while still being rooted in simple fundamentals. A simple fundamental that never goes away is the value of starting pitching.
A quality start always affords the team a chance for success. Going hand-in-hand with a quality start is a solid defense, evidenced by the Yankees setting an MLB record tonight, with 18 consecutive error-free games.
Every baseball fan has heard someone say, "pitching and defense win championships."
One way the game has evolved, however, is with the importance of the bullpen, and therein lies the question. No one forgets the success Chamberlain had in 2007, setting up for Mariano Rivera. The fact that the team's most consistent set-up man, Brian Bruney, is injured, leads people to a simple solution: put Joba back in the pen.
This may be short-sighted. There is a reason C.C. Sabathia received a $161 million dollar contract. That $161 million is about $143 million more than any set-up man has ever received. But this isn't about economics, it's about winning.
Many believe having Joba in the 'pen helps the Yankees win. I fear that if the team puts him in the 'pen again, they lose him forever as a starter. And if you take a look at championship teams, both present and past, most have had good, if not great, starting pitching.
Now, if we want to talk about Joba filling the shoes of Bigfoot, aka Mariano Rivera, then we'll cross that bridge on the dreaded day that No. 42 stops entering as Sandman.