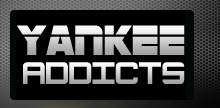 News published by
November 11, 2009
From the headline alone, Yankee haters will crow about buying more all-stars and the rich getting richer. After an explanation of needs, contract status' and an enticing offer to the ...
September 10, 2009
Being witness to Yankee history is a wonderful thing.  Incorporating a historic event within a Yankee victory even better.  Derek Jeter would have it no other way.  The Yankee captain has, ...
June 30, 2009
Mariano Rivera.  How fortunate are Yankee fans to know this name? As a player, few argue against naming Rivera the greatest closer ever.  In fact, the only person I've heard name ...
June 1, 2009
Is he a starter or a reliever? This question about Yankee Joba Chamberlain seems to dominate all Yankee conversations. After a superlative outing Monday night in Cleveland, Chamberlain may have taken ...
May 18, 2009
Enough is enough.  How much longer must Yankee fans listen to the incompetence of John Sterling and Suzyn Waldman? In his 20th consecutive season calling Yankee games over the radio, John ...