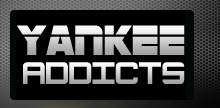 April 15, 2010 · Harold Friend · Jump to comments
Article Source: Bleacher Report - New York Yankees
"I love Billy, but I'm still a Yankee. I was rooting for the Yankees to win that playoff last week against Billy."
Mickey Mantle and Billy Martin's friendship is legendary. They were Butch Cassidy and the Sundance Kid, Batman and Robin, and Thelma and Louise all rolled into one. However, when it came to the Yankees, Mickey Mantle was a Yankee. So was Billy Martin, but Billy Martin was sent away.
They could take Billy Martin away from the Yankees, but they couldn't take the Yankees away from Billy Martin.
Loyal to the Buck
In 1981, Billy managed the Oakland A's against the Yankees in the playoffs.
There were two playoff rounds in 1981 due to a lengthy strike that was cause by the owners' demand that a team losing a free agent had to be compensated by the team that signed him, a concession that, if agreed to, would lessen the bargaining power of free agents and greatly affect how a player felt about his team. It would make it easier than ever to be loyal to the dollar.
Mickey Mantle played his entire career with the Yankees. He had tremendous disagreements over money with general manager George Weiss, but Mantle was always a Yankee.
When Billy Martin's Oakland A's played the Yankees, Mickey Mantle pulled for the Yankees because Mickey Mantle was and always would be a Yankee, and that was more important than almost anything.
One Team
Players, especially stars, used to be identified with one team.
Lou Gehrig and Joe DiMaggio were Yankees, Ted Williams and Yaz were Red Sox, Stan Musial was a Cardinal, Bob Feller and Bob Lemon were Indians, Jackie Robinson was a Brooklyn Dodger, Al Kaline was a Tiger, Brooks Robinson was an Oriole, Tony Gwynn was a Padre, and Mickey Mantle, Whitey Ford, and Bernie Williams were Yankees.
Of course, so are Mariano Rivera, Derek Jeter, and Jorge Posada, but they are still active.
Late in their careers, some teams traded a great player who could have ended his career with that team. It was an act that demonstrated the player cared more about "his" team than the team cared about the player.
Ralph Kiner, Warren Spahn, Yogi Berra, Robin Roberts, Duke Snider, Gil Hodges, Richie Ashburn, Willie Mays, and Henry Aaron are just some greats who played for more than one team, but each will always be linked to his original team.
No one can deny that the player and his family came first, but the player's allegiance to his team used to be akin to that of a die hard fan to his team.
Read more New York Yankees news on BleacherReport.com