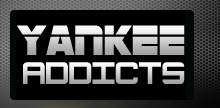 October 26, 2010 · Harold Friend · Jump to comments
Article Source: Bleacher Report - New York Yankees
Mickey Mantle has become better than Joe DiMaggio despite the fact that Mickey played his last game in 1968 and Joe played his last game in 1951.
How is this possible? The answer is that it is not possible.
During his career, the baseball writers and the fans excoriated Mickey because he wasn't Babe Ruth, Ty Cobb, and Joe DiMaggio rolled into one.
Mickey got a respite in 1956 when he won the Triple Crown, but in 1957, Mickey's home run total dropped from 52 to 34 and he drove in a "paltry" 94 runs. The fact that he batted .365 was minimized.
The boo birds returned and continued until 1960, when the New York Yankees acquired the services of Roger Maris. The fleet ball hawk from North Dakota inherited Mickey's Bronx cheers.
With the passage of time, more sophisticated statistical methods of evaluation have been created. A disclaimer is necessary, since many of the new measurements have been accepted without full acknowledgment of their shortcomings, but one result has been that Mickey's 1957 season compared favorably with his Triple Crown season.
YEAR BA OBA SLG
1956 .353 .464 .705
1957 .365 .512 .665
Lifetime, Mickey batted .298 with a .421 on-base average and a .557 slugging average.
Joe DiMaggio was selected as the greatest living baseball player in 1969. During his career, he was considered the best player in the game.
Mickey was considered the best during and after his 1956 Triple Crown season, but more "experts" ranked Willie Mays as greater than Mickey.
Joe never won a Triple Crown—after all, Ted Williams was in the league—but Joe won two batting championships compared to Mickey's one. Joe's highest average in a season was .381.
Lifetime, DiMaggio batted .325 with a .398 on-base average and a .579 slugging mark.
Mickey would have had much better lifetime numbers if his last few seasons, when his injuries hampered him tremendously, were eliminated. From 1951-1964, Mickey batted .309 with a .429 on-base average. He slugged .582.
Joe DiMaggio suffered from injuries, especially after he returned from defending freedom from 1943-45. Imagine what his statistics would be if he had not missed three full seasons.
So far, there is little to choose from, but when one takes each player's peak seasons, the results might surprise some, especially since Mickey hit 535 home runs to Joe's 361.
Mickey Mantle from 1954-1958
BA OBA SLG HR/Yr RBI/Yr
.325 .451 .618 38 104
Mickey Mantle from 1960-1964
BA OBA SLG HR/Yr RBI/Yr
.304 .437 .612 35 91
Joe DiMaggio from 1936-1941
BA OBA SLG HR/Yr RBI/Yr
.345 .408 .626 33 136
It is close offensively, but DiMaggio gets a huge edge in batting average, a slight edge in slugging average, and a tremendous edge in batting in runs. Mickey comes out on top in home runs.
DiMaggio was better defensively and was a better baserunner, but Mickey was much faster, could bunt, walked, and struck out much more, and was a great base stealer.
It is difficult to compare two all-time greats, each of whom has become an American and even a worldwide legend, but the edge, although slight, must go to Joe.
References
Read more New York Yankees news on BleacherReport.com