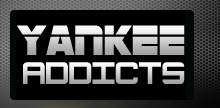 May 6, 2009 · Don Spieles · Jump to comments
Article Source: Bleacher Report - New York Yankees
Walt Whitman said, "Charity and personal force are the only investments worth anything."
While there have been times that I have tried to conceive a way to exert my personal force on the Yankees or their fans, today I'll opt for some charity. Even though their current maladies should have me smiling to the point of pain, I'll offer some thoughts on what the issues are.
I offer no guarantees that they are things that can be fixed.
Bench Issues
As of Tuesday's game, the Yankees carried 13 pitchers on their 25-man roster. Now, everyone agrees that they need pitching, but the secret is good pitching, not multiple bad pitchers.
Having extra guys who walk the bases loaded is doubly bad when you consider that they are taking the bench spots of guys who might have been used to pinch hit with one out and a runners on second and third.
As it stood, the rookie, Ramiro Pena at the plate in that spot. There were only two things that could have happened in that spot that would prevent a run from scoring to tie the game at four a piece. One was an infield pop-up, the other was a strike. Pena struck out.
If the Yankees had a extra spot or two on the bench, they might have just help one slightly above-replacement-level player who could have gotten bat on ball. After the K, Jose Molina grounded out to end the inning. A ground out that, had it been one batter earlier, would have scored the tying run.
How frustrated must Joe Girardi be?
The Short Porch
"The Lord giveth and the Lord taketh away." So does the shallow fence and wind. Whatever is taking the balls off Yankees bats out is also taking them out for opponents.
Things That Expensive Shouldn't Be Sat Upon
The $1.5 million dollar cathedral that they built can be filled. Not, at least, at the rates they have set on seats. The pinstripers are not used to playing to a less-than-full house. It's weighing on the minds of players, coaches, and owners, regardless of whether they try to minimize it or not.
What's worse about the new stadium is that most people who go there are impressed with all the non-game-oriented stuff. The concourse, the stores, the restaurants, etc. The field looks exactly the same except you have to pay way more to sit and there are, for some reason, lots of home runs.
Leggo-My-Ego
It's not necessarily that C.C. Sabathia, A.J. Burnett, and Mark Teixeira are giant-headed egomaniacs. They are megastars, making a nauseating amount of money, playing in the worst place in the free world to play.
Don't let anyone fool you—no one plays in New York because it is a great place to play. Guys play there for two reasons. The first is the way the owners like to spend. Like drunken sailors on weekend furlough.
The second is because the Yankees have a lot of great history. They all think that being able to say, "I'm a Yankee" will outweigh the horribly fickle fans, the vitriolic press, and the crazy microscope attention to every single game. No one really believes that it is a great place to be a baseball player.
These guys may or may not be prima donnas, but one thing is for sure, they need special treatment while transitioning into life in the Bronx. That goes double when you start off the way the Yankees and their three Brinks truck drivers have—in a word, lousy.
Joe Girardi is not able to keep these guys heads straight. If they start to do better, they may get straight on their own. Then again, they may not. Look at A-Rod.
Not All Joes Are Equal
Girardi is being out managed, especially by Terry Francona of the Red Sox. The steal of home by Jacoby Ellsbury is the prime example.
That was not a freak occurrence by an overzealous speedster. That was a prime piece of scouting and managing that was pulled together in a perfect storm of coincidence.
Ellsbury was on third, Pettitte was on the mound, and there was a left-handed batter at the plate. There was even that added effect (at least for us watching on TV) of listening to the announcers ramble on about how the Pettitte's pick-off move is second to none.
There are other examples, like the one above with pinching hitting—though Brian Cashman need to get him more to work with, where Girardi is showing that he is not Joe Torre.
His game stuff is not at Torre's level. He is not the personnel manager that Torre is, now at time when that is sorely needed. Girardi is a little more likely to lose his temper than Torre was, but it all balances out because I don't think that Girardi could possibly cry as easy as Torre.
So, are there any answers? Not any easy ones, it would seem.
There are not an abundance of players out there who fit that bench needs that the Yankees have. There are some, if Cashman is smart enough to find them.
The Yankees are stuck with Teixiera, Burnett, and C.C. until they come out of their new-to-town slumps. In the end, I think most fans will be happy that they are on the team, but it could be awhile. And don't think that this situation would be made all the more complicated when Alex Rodriguez rolls back into town.
And just in case anyone wonders, you only need to read Torre's book to know that him coming back is not ever going to happen.