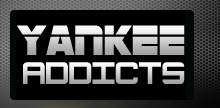 April 21, 2009 · Tom Au · Jump to comments
Article Source: Bleacher Report - New York Yankees
Chien Ming Wang used to be the Yankees' ace. Now it seems more like he's pitching batting practice.
Wang claims that he feels like he's pitching the same as he always has. That may be the problem. Pitchers and hitters don't run in place, they adjust. American League hitters may now be adjusting to Wang, while he isn't adjusting to them.
Wang was never really a star, like the Twins' Johan Santana or the Indians' C.C. Sabathia. He was a journeyman workhorse, who lasted long innings, with solid, and even above average results that were just short of championship quality. With the run support of the hard-hitting Yankees, he won 19 games in his best year. Try telling that to someone like the Pirates' Paul Maholm, who went 9-9 in 2008 with a better ERA than Wang last year.
Problem was, Wang was only a two pitch, fastball and slider, hurler. That combination is relatively easy to decipher. He's tried to rescue himself by varying his pitches, but that has only dug the hole deeper.
Some people feel that Wang is tipping his pitches. That's probably not the case, but it does probably point to the underlying problem, his opponents have figured him out. If he can't find a way to fix it, this might require drastic action, like trading him to a National League team to give him a fresh start.