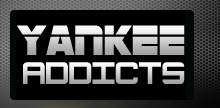 April 20, 2010 · Colin Krouse · Jump to comments
Article Source: Bleacher Report - New York Yankees
2010 is here, and the Yankees are on a roll!
The Bronx Bombers are 4 series into the season, winning all of them. There have been a lot of positives so far, but I want to focus in on one.
This may be the one that gets fans excited. We've been waiting for him to start swinging the bat, and lo and behold, here he is!
The mystery pinstriper is…….Brett Gardner!
Yankee fans have fallen in love with the speedy outfielder, and have waited patiently for him to start hitting.
Gardy is 10 for 30 with 4 RBI.
And 7 stolen bases.
It's great to see him play like that. You always want a guy like him to succeed.
Now the question is, can he keep it up? We'll find out.
But an even bigger question, will he start against lefties?
So far, Girardi has been platooning Marcus Thames and Brett Gardner out in left. So far, it's worked out well.
But a lot of fans, including me, want to see what Gardy can do.
Because you're only as good as your weak spot.
Perhaps Girardi isn't putting Gardy in because he's afraid to see his favorite player fail?
Or maybe he's trying to build up some confidence in Brett before he tries him as the full-time guy.
Who knows.
But I think it's time for us to try.
And if he fails? We go back to that platoon with Thames and Gardner.
But it's time.
Read more New York Yankees news on BleacherReport.com