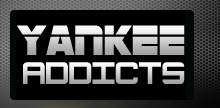 January 6, 2010 · Perry Arnold · Jump to comments
Article Source: Bleacher Report - New York Yankees
New York Yankees General Manager Brian Cashman had said going into the offseason that one of his priorities was to upgrade the starting pitching.
But he would not get seriously involved in the Doc Halladay sweepstakes because the stakes were probably too high and Toronto was never likely to trade Doc within the American League East.
Cashman also apparently made no serious efforts to go after free agent John Lackey who signed with arch rival, Boston.
But the week before Christmas, Cashman traded outfielder Melky Cabrera to Atlanta and brought Javier Vazquez back to the Bronx where he had pitched one year in 2004.
So what can Yankee fans expect of Vazquez in his return to New York?
One thing for sure is that you can expect that he will not match his ERA of 2009 when he put up a flashy 2.87 ERA. At that time he was pitching in the National League East. Moving him to the American League East makes it absolutely certain his ERA will climb considerably.
Another thing that is almost certain is that he is going to pitch economically.
Vazquez issued only 44 base on balls in 2009 and gave up only 20 home runs. Those numbers may go up now that he will have to pitch to designated hitters and stronger lineups in general. But he will give you alot of innings without extraordinary numbers of pitches.
And in 2009 he struck out 238 hitters. Don't expect those numbers to be reached in 2010, but he will do okay in this department.
But careful consideration must be given to how he was used in Atlanta, and the competition he faced, before you can plan on him earning the same 15 wins he had for the Braves last year.
Consider his wins: They came against Pittsburgh, Cincinnati, Philadelphia, Colorado, the Cubs, the Cubs again, the Mets, San Diego, the Dodgers, Philadelphia again, San Diego, Houston, St. Louis, Philadelphia, and Washington.
Except for the wins against the Phillies and Dodgers, he was gaining victories over less than auspicious competition. He shut out the Phillies on one occasion, but also gave up four earned runs to the Phils in another win.
And he lost to Florida three times and had two other no decisions against the Marlins. He also lost to the Mets, San Francisco, Milwaukee, St. Louis, Cincinnati, and Boston,
He also was given a lot of extra rest by Bobby Cox. There were actually 11 starts in which he pitched with five or more days rest. At the All-Star break he had 12 days off between starts and there was a stint in August when he got seven days between starts.
After the All-Star break he only had five wins when he started on four days rest. And apparently Cox knew the need to give him more rest because Javier got more in July, August, and September.
He did throw 219 innings in 33 starts and had six games where he went eight innings or longer.
But he will no longer pitch against Pittsburgh, Cincinnati, San Diego, San Francisco, and Washington. We will have to wait to see what his stats show when he throws against Boston, Toronto and Tampa Bay.
He will probably get more run support from his new Yankee teammates than he got from the Braves. But the Yankee lineup that produced 105 wins in '09 will not be as potent in 2010 with the losses of Johnny Damon, Hideki Matsui and Melky Cabrera.
Many predict great things from Vazquez's return to the Bronx. This fan is skeptical of bringing back a guy who has spent almost his entire career in the National League and was less than spectacular in his previous one year stint in New York.
Read more New York Yankees news on BleacherReport.com