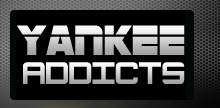 February 10, 2010 · Perry Arnold · Jump to comments
Article Source: Bleacher Report - New York Yankees
At the present time, the New York Yankees have six outfielders on their 40-man roster.
And they have a total of 11 outfielders, including the roster players, who will be coming to Spring Training.
To say the least, it has been an active offseason for the Yankees signing outfielders. What is less certain is what the day-to-day makeup of the Yankees outfield will be in 2010.
The biggest splash of the offseason was unquestionably the trade with Detroit for Curtis Granderson. The biggest Yankee piece in that trade was young outfielder, Austin Jackson, who had long been regarded as the best prospect in the Yankee system and is projected to start for the Tigers in center field this year.
Granderson has been met with mixed reviews in New York. He was first hailed as solving all Yankee needs in center field for years to come. And then word began to spread that maybe he was not the center fielder after all and would be moved to left.
There is no question Granderson will play somewhere. The team did not trade Jackson, Ian Kennedy, and Phil Coke and agree to pay Granderson in excess of $8 million to have him on the bench.
But the Yankees also have Nick Swisher and Brett Gardner returning from the championship team of last year.
Swisher was the primary right fielder last season after Xavier Nady went on the DL with an arm injury. Swisher did not have a great average and struck out more than 140 times. But he stroked 29 home runs and 35 doubles and had an OBP percentage of .371 and an OPS+ of 129.
Gardner played in only 108 games because he fractured his thumb in late July and did not return to the team until September.
But the Yankees showed a great deal of confidence in the 26-year-old speedster when they traded their primary center fielder of the past six years, Melky Cabrera, to Atlanta.
Gardner may very well be the starting center fielder for the Yanks in 2010 if Granderson is moved to left.
But the Yankees also brought in a Rule V draft player, Jamie Hoffman, as a result of trading reliever, Brian Bruney, to the Nationals.
Hoffman has almost no time in the major leagues but was a highly thought of prospect in the Dodgers' system who must stay with New York all season, barring injury, or he goes back to LA.
And the team recently signed free agent Randy Winn, who played last season for the Giants.
Winn has been a very durable player, having never played less than 149 games in the past eight seasons. While Winn's offense has fallen off in the past few seasons, he remains one of the better defensive outfielders in the game.
And late last week it was announced that the Yankees had also signed Marcus Thames, who is 33 years old and played last year for Detroit. Thames has been signed to a minor-league deal and will be given a chance to make the big team in Spring Training.
In addition, the team signed Greg Golson, Reid Gorecki, Colin Curtis, Jon Weber, and David Winfree in this offseason and all are invited to Spring Training.
Granderson has a career OPS of 828 and an OPS+ of 113. But he was off those numbers in 2009 despite hitting 30 home runs.
Granderson's defense has been questioned because his UZR/150 was only +1.6 in 2009 and was actually much worse in 2008 when it ended at -9.4.
Swisher has a career OPS of 818 and an OPS+ of 115. But he is no plum on defense, with a UZR/150 last season of -1.6.  That is just a little below average but subjectively there were times last year when he looked awkward going toward the wall in right.
Gardner has only played in 150 major league games, so his offensive sampling is not large. But he increased his average last year to .270.  His career OPS is .677 with an OPS+ of 80. But last year he had an OPS of .724 and an OPS+ of 93.
Gardner's strength is never going to be hitting for power. But with his blazing speed he has the potential to hit a lot more doubles and he will provide the opportunity for steals if he can continue to get on base.
Where Gardner excels is on defense. His UZR/150 is a blistering +27.6. Admittedly, that is over only 789 innings, but his speed gives him great range. While his arm is only average at best, Gardner is the best defensive outfielder who was on the team last year.
Randy Winn still brings great defense as well with a UZR/150 last year of +20.
But Winn's offense has lagged. His career OPS is now at .762 with a career OPS+ of 99.
Last season, Winn was actually lower than Gardner in both OPS and OPS+ with 671 and 75.
Marcus Thames will be given a chance to make the team. But his numbers may not lead to much confidence. His career OPS is .797 with an OPS+ of 104. But, last year he dipped to .777 and 99.
Thames is probably being considered because he has very good power numbers against left handed pitching, having hit 40 home runs and driven in 105 with a sampling of over 600 ABs against southpaws.
But Thames is not a good defensive outfielder with a UZR/150 of -12.2.
Greg Golson is also on the 40-man roster and was one of the most highly touted prospects in a loaded Texas system.
Golson is 25 years old and in six years in the minors he has over 2,500 ABs and an OPS of 703. He is reported to be a very good defensive outfielder with tools and speed.
Reid Gorecki is 29 years old and has worked in the minors for eight seasons. He has some ability but has never been able to break into the bigs, despite a career OPS of .770.
John Weber is something of a surprise signing as he is 32 years old, has played 11 years in the minors with almost 4,000 at-bats, and has never shown enough to break through to the major leagues. He does have a career minor league OPS of .822.
Colin Curtis is 25 years old and played in 70 games with the Yankees Triple A Scranton team last year but did not set the world on fire.
Finally, David Winfree is a 24-year-old who came to professional baseball when he was only 17 and already has amassed almost 2,500 minor league at-bats. But, he has yet to show a great deal of offensive talent.
In all likelihood, the Yankees will go north with five outfielders. Granderson, Gardner, and Swisher are almost certain bets. Hoffman will stay unless he is injured or just falls on his face in camp.
After that, Randy Winn is probably the best bet because he is a superior defensive player who still can do something with the stick.
If the Yankees fear Gardner against left-handed pitching, Thames might be a platoon option, but he will make an average defense with Granderson and Swisher even weaker.
Read more New York Yankees news on BleacherReport.com