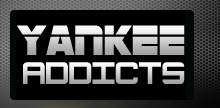 April 19, 2009 · Marisa Scolamiero · Jump to comments
Article Source: Bleacher Report - New York Yankees
The New York Yankees, their fans, and, it's safe to say, Chien-Ming Wang are all in disbelief.
A few weeks ago, no one would have imagined that Chien-Ming Wang would start his season 0-3 with an ERA of 34.50.
Yesterday, Wang made his first start at Yankee Stadium, and despite having a 2-0 lead at the top of the second inning, Wang only recorded one out in the second while giving up eight runs.
Yet again, the bullpen was called on to provide relief, and couldn't stabilize the hole Wang had dug: Cleveland pulverized the Yankees 22-4.
The Yankees keep insisting that Wang is fine physically, but it's clear something is very wrong. How do they keep sending out a pitcher that is putting the rest of the team in such a bad position so early on in the game? Then again, how do they not send out someone who has been so productive the past three seasons?
To make things more complicated, Wang is out of minor league options so the Yankees can't ship him down to Triple A to get straightened out. If they decided to do that, he would need to clear waivers, which is something the Yankees don't want to deal with.
So, what can the Yankees do to fix Chien-Ming Wang?
First of all, the Yankees could place Wang on the DL, and that would give him 15 days to work through his issues with minor league starts. There is much less pressure pitching in the minors, and some success down there might give Wang the bit of confidence he is lacking.
Or the Yankees could go the complete opposite way and keep running Wang out there to make him work through his issues. However, while for the past three starts the Yankees have been saying Wang would work through his issues, he has yet to do so. How long do they keep putting someone out there that is hurting the rest of the team by starting?
What makes Wang's situation even more difficult is that he's not a rookie, yet he's not a seasoned veteran either. You can't simply blame his lack of production on inexperience, because he was pitching better as a rookie than he is now.
At the same time, he's not a seasoned veteran that has had so much success that you can just trust he will get it figured out.
The Yankees went through a similar situation with Mike Mussina, although he was at the end of his career when he ran into a wall.
Mussina was a liability almost every time he stepped out on the mound. It looked like after 17 years of pitching in the majors, Mussina had forgotten how to pitch. Physically, he was fine, and they couldn't send him down to the minors. Instead, he got taken out of the rotation as a way of trying to get himself together.
The Yankees' rotation was in complete disarray in 2007, and it wasn't easy to take out an established pitcher like Mussina, but it had to be done for the well-being of the team.
If the Yankees don't want to dig themselves into an early hole, and play catch up for the rest of the year, they must seriously consider what to do with Chien-Ming Wang.
If he can't get out of his own head and let his pitching take over, he's going to do more damage than good in the rotation.