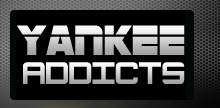 April 9, 2010 · Bronx Baseball Daily · Jump to comments
Article Source: Bleacher Report - New York Yankees
Recently, umpire Joe West spoke out against the Yankees and Red Sox organizations, saying they play too slow.
The comments followed a 10-inning affair that lasted just less than three and a half hours.
Some words West used to describe the teams included "embarrassing" and "pathetic."
"They're the two clubs that don't try to pick up the pace," said West, chief of the umpiring crew that worked the three-game series in Boston. "They're two of the best teams in baseball. Why are they playing the slowest?"
Source: NorthJersey.com
The issue of the Yankees slowing the game down isn't new. We've heard about it for years. In the past few, however, the issue has been escalated and brought to the public eye. Most recently, Bob Watson, vice president of rules and on-field operations for Major League Baseball, spoke about the issue prior to the start of the 2010 baseball season.
While Derek Jeter declined to comment, saying "I'm not really one to say much about umpires," closer Mariano Rivera had no problem tackling the issue with some comments of his own.
"He has a job to do. He should do his job," Rivera said. "We don't want to play four-hour games, but that's what it takes. We respect and love the fans and do what we have to do, and that's play our game."
Are Yankees/Red Sox games lengthy? Yes.
Are Yankees/Red Sox generally entertaining games? Yes.
Problem?
I don't see one.
Baseball is a sport that each team must utilize strategy from the first pitch to the last. If part of that strategy is making a pitcher uncomfortable by calling a time out, so be it. The bottom line is, Yankees and Red Sox fans get to watch more baseball. Not everyone will agree with this. Nor do I believe if we speed up a few games, the sport will suddenly skyrocket in popularity.
Whatever camp you're in, I don't believe it's an umpires place to come out and say this sort of thing.
Players are fined for speaking against calls they believe to be incorrect. Often times, we've found many of these calls, especially last season, are in fact the wrong calls. When did the double standard set in that an umpire has full power to say whatever he wants?
Either way, it's likely we haven't heard the end of this yet.
Related Stories
Read more New York Yankees news on BleacherReport.com