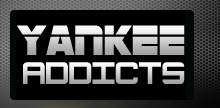 December 18, 2009 · Blake VandeBunte · Jump to comments
Article Source: Bleacher Report - New York Yankees
From JAYRC:
Perhaps the least talked about of our four new prospects is former New York Yankee south paw Phil Coke. At 27 years old, I think it's safe to say that the prospect lable is far removed from his name.
Last season in a relief role with the Yankees in 60 innings of work Coke went 4-3 posting a 4.50 ERA. The numbers are respectable but nothing to get to excited about.
You see the Tigers currently have a surplus of lefty relievers on the roster. With Bobby Seay, Fu-Te Ni, Daniel Schereth and Brad Thomas battling it out for just two available slots in the bullpen, perhaps Coke would be a better fit in the rotation.
As it stands now, only Nate Robertson and (long shot) Dontrelle Willis are south paw candidates for the rotation. It's more than safe to say that neither one of them are locks for a spot.
In further examining Coke one thing that jumps out is his 1.5 HR/9 stat. The unfriendly confines of Yankee Stadium may be to blame for that though. That may explained why in Advanced A he posted much better numbers of 0.5 HR/9 and in AA 0.4 HR/9. Both of which I might add were teams that Coke was used primarily as a starter.
So how long has it been since he started and curious how well he faired? Coke went 9-4 with a 2.51 ERA in Double-A Trenton in 2008. Prior to that in Advanced A Tampa Coke was 7-3 with a 3.09 ERA.
Maybe it's far fetched and maybe I'm alone on this. However, I would seriously consider giving Phil Coke an opportunity to help balance out the all right handed Tiger rotation.
Read more New York Yankees news on BleacherReport.com