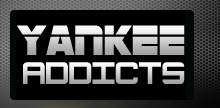 News published by
December 22, 2009
A few things floating around my mind as I sit at my parents place, safely back in Michigan: The Dusty Ryan era is over in Detroit.  The Tigers shipped the defensively-challenged ...
December 18, 2009
From JAYRC: Perhaps the least talked about of our four new prospects is former New York Yankee south paw Phil Coke. At 27 years old, I think it's safe to say ...
December 16, 2009
I live in Connecticut. There are Yankee fans around every corner. When I am back in Michigan for family functions, the most knowledgeable sports fan around is my cousin, Rob. ...
December 8, 2009
It appears that Curtis Granderson and Edwin Jackson are on their way out of Detroit.  Bummer. Bummer. In a deal that apparently has been "agreed upon," the Tigers will send Granderson to ...
November 19, 2009
Year: 1963 Record: 79-83 Win %: .488 Win % Change: -40 Run Differential: -3 Pythagorean Record: 81-81 AL Finish: 5th of 10 Manager: Bob Scheffing and Chuck Dressen Best Transaction: Picked up Denny McLain off of waivers.  McLain's ...
November 18, 2009
Year: 1918 Record: 55-71 Win %: .437 Win % Change: -73 Run Differential: -81 Pythagorean Record: 54-72 AL Finish: 7th of 8 Manager: Hughie Jennings Best Transaction: Purchased Marty Kavanagh.  This is a stretch, but Kavanagh is the ...
October 29, 2009
Year: 1996 Record: 53-109 (2nd most losses in franchise history) Win %: .327 Win % Change: -90 from the year before Run Differential: -320 Pythagorean Record: 56-106 AL Finish: 14th of 14 teams Manager: Buddy Bell Best Transaction: ...
October 22, 2009
This segment is taking forever, but I'm having a good time so I'm going to stick with it.  Here we go, part five. Deacon McGuire:  McGuire is not a huge name ...
September 26, 2009
I know Paul O'Neill (pictured) doesn't play for the Yankees any more. I just dislike the guy and he reminds me of everything I hate about that team. The Tigers' comeback ...
September 16, 2009
The playoffs are drawing near, and even though the Tigers have struggled over the last two weeks, it's looking like they will be there.  At the very least, the Tigers ...