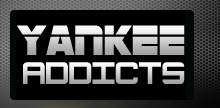 December 16, 2009 · Blake VandeBunte · Jump to comments
Article Source: Bleacher Report - New York Yankees
I live in Connecticut. There are Yankee fans around every corner. When I am back in Michigan for family functions, the most knowledgeable sports fan around is my cousin, Rob. Rob is a Yankee fan.
Needless to say, I hear plenty about the Yankees. So, when the Tigers dealt Curtis Granderson to the Yankees last week, I had more than a few conversations about Curtis.
My cousin commented via email that he was excited about the Yankees getting one of the 20 best outfielders in the game. Twenty seems like a lot, but there are three starting outfielders for each big league team, and some usually DH. That should give us about 100 big league-caliber outfielders.
Is Granderson for sure in the top 20? Let's take a look.
Where Granderson ranked amongst outfielders in 2009:
Hits: 22nd behind Chris Coghlan and Scott Podsednik
Runs: 16th behind Jacoby Ellsbury and Andre Ethier
Doubles: 56th behind Rajai Davis and David Murphy
Triples: Eighth behind Dexter Fowler and Michael Bourn
Home Runs: Seventh behind Andre Ethier and Nelson Cruz
Stolen Bases: 20th behind Alexis Rios and Brett Gardner
Batting Average: 69th behind Gary Matthews and Felix Pie
OBP: 60th behind Mitch Maier and Jeremy Hermida
SLG: 31st behind Matt Diaz and Cody Ross
Extra Base Hits: 17th behind Cody Ross and Shin-Soo Choo
Okay, so that's last season. Many out there would consider this too small of a sample. So let's look at the last three seasons (2007-09):
AVG: 29th
HR: Ninth
2B: 29th
3B: First
SB: 18th
OBP: 28th
SLG: 12th
Hits: 10th
Runs: First
Extra Base Hits: Second
Okay, so that looks a lot better, doesn't it? It really helps put Granderson's disappointing 2009 season in context. This only looks at offense, though. Defense is notoriously difficult to judge, so the amount of data I have is limited.
From 2006-2008, Granderson was the eighth best center fielder in baseball according to John Dewan's +/- ratings for players in the field. In many ways, Granderson took a step back defensively in 2009. His range factor numbers were down. He was still better than league average, but he still regressed a bit last season.
So, is Curtis Granderson a top 20 big league outfielder? I'm going to hold my tongue. What do you think?
Read more New York Yankees news on BleacherReport.com