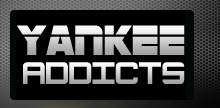 April 18, 2009 · Gary Marchese · Jump to comments
Article Source: Bleacher Report - New York Yankees
The New York Yankees lost a brutal game today to the Cleveland Indians by the score of 21-4. Chien-Ming Wang lasted 1 1/3 innings giving up 8 runs. He has been shelled in all three of his starts and is just lost right now. The Yankees and Wang say that he is not hurt and that they can't send him to the minors because he has no options and he would have to agree to it.
They did acknowledge that they may skip his next start which is Friday at Boston. Wang usually gets hit around by Boston so I would say definitely skip it but I also think they need to talk to him and get him to AAA and work things out for a while, Phil Hughes could come up and start for him.
The Yankees are now 6-6 and 0-3 when Wang pitches without even having a chance in those three games, so the other nine games they are 6-3 which is good, he is single-handedly killing the team, losing three games for them. I wonder how long the Yankees will keep saying he is fine and will find it before they do something they really don't want to do?
The only highlights of the game for the Yankees were Mark Teixera and Melky Cabrera hitting two run homeruns. This park is really playing small as there are a ton of balls flying out, I think A-Rod better hurry up as he is going to blast a ton out of the New Stadium.
There isn't much else to say about this game. I will say that I do like my new seats, I really thought I would hate them. The new stadium does look like the old stadium when your just concentrating on the field. I do like how they put the retired numbers on a wall in the bleachers, the sound system also seemed to be fixed from the exhibition games.